Saturday, August 25th, 2007
Defense shines in Cavs win
By Gary R. Rasberry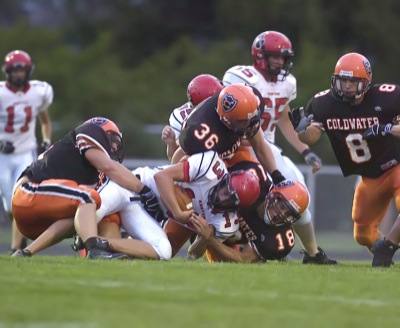 COLDWATER - Not even nasty weather could break the Coldwater defense.
After giving up a big-play touchdown on Kenton's opening possession of the game, Coldwater's defense shut out the Wildcats for the remainder of the game, winning 21-7 at Cavalier Stadium, extending Coldwater's regular-season win streak to 33 games.
After Coldwater went up 7-0 on Cory Klenke's 13-yard scoring pass to Zach Kaup with 8:19 remaining in the first quarter, Kenton took the ball at its 19. Quarterback Brian Thompson found Corey Manns on a strike, and Manns broke free and rumbled 81 yards for a touchdown with just 20 seconds elapsed off the clock.
For the remainder of the quarter, the teams traded possessions. As the second quarter started, Coldwater got the ball back at the Kenton 27 when Dusty Rutschilling recovered a fumble.
Klenke moved the ball nine yards, then got hit late by a Kenton player, moving the ball to the 10. After a false start, Klenke found Ryan Geier for a 14-yard scoring strike with 10:09 left in the half to put Coldwater up for good.
From there, the Coldwater defense picked up the pace. The key series came when Kenton drove down to the Coldwater 3. Manns tried twice to run it in, but lost a yard. Thompson moved it closer by a yard to set up fourth-and-three. Thompson looked for Manns in the corner of the end zone with a pass, but defensive pressure caused the incompletion.
"Kenton always scores on the first play," said Coldwater coach John Reed. "The big goalline stand was the turning point. No question the defense really played well because Kenton played an outstanding game. I really felt that this was a tremendous plan they (Kenton) had for us. They were really well-prepared and took a lot of things away from us.
"Real credit to them, but credit to (defensive coaches) Tim Hoyng and Jason Hemmelgarn for the defensive adjustments they, once again, made. (Kenton) was really hurting us with several things they were doing. I was pleased with the adjustments we were able to make. I'm really proud of them."
Kenton head coach Mike Mauk praised the Coldwater coaching staff as well.
"I think they do a great job with their defense here and their players are so well-prepared," said Mauk. "They give us a lot of difficulties with some of the things they do. We really worked hard to prepare our game plan and I thought we did a decent job, but then again, we were playing a good team.
"We were pleased we were able to do some things. Naturally we would have liked to get the ball into the end zone a few more times."
After a delay due to lightning that caused an hour delay to the second half, Coldwater looked to try to put the final nail in the coffin in as a heavy storm was closing in on Coldwater.
The Cavaliers drove the ball 64 yards on 16 plays, taking 5 1/2 minutes off the clock. Tony Harlamert busted in from two yards with 3:18 left in the third quarter out as the wind and rain picked up steam. Following Mario de la Rosa's PAT, the officials sent both sides to their locker rooms as torrential rain and wind swept in, followed by plenty of lightning.
Play resumed at nearly 11:30 p.m., but Coldwater's defense stayed tough and kept Kenton from getting any closer.
Klenke, in his first start at quarterback, was solid, going 14-of-24 for 139 yards and two touchdowns while also carrying the ball 14 times for 94 yards.
"It was a good first game for somebody playing quarterback for the very first time in a pressure situation like this," said Reed. "I'm certainly proud of Cory, but I was also proud of the offensive line. All those guys were first-time players. They did a good job."
Kaup was Klenke's favorite target, snagging seven passes for 68 yards. Harlamert carried the ball 18 times for 94 yards.
Thompson was 22-of-35 for 255 yards and Manns had eight catches for 148 yards.
"Outside the delays, it was a pretty good game," said Mauk. "Coldwater, naturally, is very well-coached, have good athletes and played well. We competed. Unfortunately, we didn't make the plays and they did. I thought it was a great long game."
Coldwater stays at home for week two, hosting Marion Local in their annual match which figures to feature the two favored teams in the Midwest Athletic Conference.