Monday, August 27th, 2007
Maryland woman wins Governor's Cup Regatta
By William Kincaid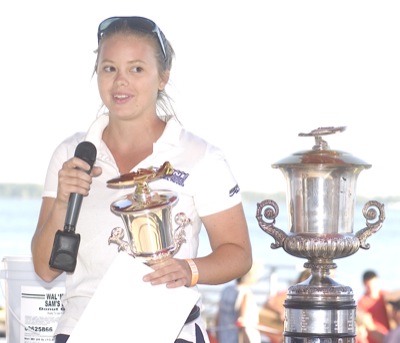 For the first time in the 49-year history of the Governor's Cup Regatta in Celina, a woman driver came away with the winning cup.
Kelly Shane of Maryland, driver and owner of her 1.5 stock hydroplane, was awarded the 2007 Governor's Cup on Sunday after a beautiful, sunny day of racing on Grand Lake, where spectators packed Lake Shore Drive.
"The Shane family has been involved in racing for generations," regatta co-chairman Lou Schiavone told the newspaper.
Shane, who locally was sponsored by Purdy, Lammers & Schiavone, now joins 48 other past Governor's Cup winners, including her brother, Jimmy Shane, who won in 2005.
During the weekend, seven classes of hydroplanes battled it out on the lake's 1-mile course.
Schiavone said both the community and racing committee "accomplished what it was we set out to do."
Despite a few momentary showers on Saturday afternoon, Schiavone said race officials were able to get all scheduled races completed. He also pointed out that ironically, those who brought umbrellas out on Saturday ended up using them for shade on Sunday.
Next year, the Celina Governor's Cup Regatta will host the 2008 American Power Boat Association (APBA) National race.
"Celina has earned the rights to throw the 2008 (race)," Schiavone said, adding the event will feature more than 100 boats - the most ever to be raced on the local lake.
Schiavone said in January co-chairman Tom Saddler made an excellent presentation to the APBA committee in Los Angeles, as he made a successful bid for Celina to be the hosting city of the 2008 national event.
"Over the years, we have earned our stripes," Schiavone said.
He said because the annual regatta is a community event enveloped around the actual race, Celina was able to set itself apart from the other competing racing cities.
"Our committee and this community make me and Tom Saddler look so good," Schiavone said.
For next year's race, he said the regatta committee will have to take into account additional logistics, as well as various other requirements and inspections.