Friday, August 3rd, 2007
What's cookin' at the Auglaize County Fair
By William Kincaid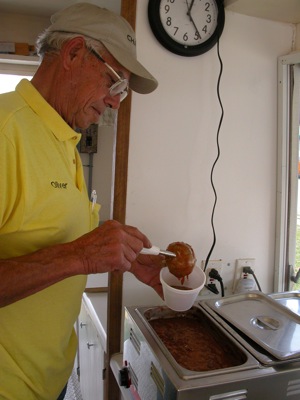 WAPAKONETA - After a long day at the Auglaize County Fair, there's nothing better than eating a big .... elk burger?
According to food vendor Oliver Close - owner of the Native American Foods traveling trailer - an elk steakburger is delicious, satisfying and a healthier alternative to the traditional hamburger.
"People are pleasantly surprised when they try it for the first time," the 70-year-old Close told the newspaper on Thursday afternoon, pointing out he offers a money-back guarantee.
With a menu including elk steakburger, roast elk, barbecue elk, elk sticks, elk jerky, elk and noodles, elk chili, fry bread and Indian tacos, Close offers the most exotic food on the Midway.
"It tastes more like beef than it does deer," he said, while dangling an unlit cigarette.
Close said a traditional hamburger contains 40 percent fat, while an elk steakburger is comprised of only 1 percent fat and no saturated fat. And the cholesterol content, he said, is comparable to pink salmon.
"Obviously the people .... don't need more fat," he said.
Close, who lives 10 miles north of Ashland, raises his own elk, about 200 head, at his 500-acre farm and has them processed at various facilities. He began selling at festivals, fairs and Indian pow-wows about seven years ago, after partially retiring from farming.
From May until October, Close and an occasional assistant, embark on a sprawling cooking tour of the east and west portions of the state.
"So this is what I do in the summer," Close said, before adding that he delivers hay to auctions six days a week during the rest of the year.
Close said his business is more successful on the east, as many of the fair goers are coal miners, lumberjacks and gas line workers who consume more venison and are less reluctant than westerners to gobble an elk burger.
"They work outside and hunt," he said.
The story of Close and elk began in 1964 when he purchased a few deer in order to train coon dogs on his farm. After visiting Missouri a few years later, he decided to purchase elk and eventually phased the deer out of the training process. The two animals, he said, don't mix well together.
"I was probably one of the first ones," he said about being an elk farmer in Ohio.
Close, his wife Judith, sons Steven and Jeremy and daughter Valerie soon began selling the elk meat from their farm.
"The boys thought we needed to expand the business," he said. "We'll take it to them (the customer)."
Close and his family also sell elk meat to farm markets in major cities, such as the North Market in Columbus, which he said sells elk meat for $32 a pound to high end restaurants, where it is considered a delicacy.