Thursday, August 30th, 2007
St. Henry volunteers muscle in
By Shelley Grieshop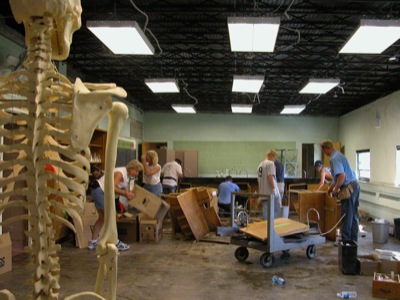 OTTAWA - First came a ghastly stench of things rotting and then the sight of debris piled throughout the town.
As a St. Henry school bus slowly snakes around police cars and dump trucks in downtown Ottawa on Wednesday morning, the group of adults and teenagers inside are in awe. They are dressed in old T-shirts and shorts; their hair pulled back. Armed with hammers, screwdrivers and crowbars, they are ready to work as they pledged a day of disaster aid.
Eerily, the day marks the second anniversary of Hurricane Katrina. But the people in the village of Ottawa - about the size of Coldwater - have other things on their mind as they battle to regain their property and lives after 15 inches of rain engulfed them in a 24-hour period last week.
The three dozen people from the St. Henry area left town at 8 a.m. to answer a plea from one of their own. The Rev. Tony Fortman, associate pastor at St. Henry Catholic Church and an Ottawa native, surveyed the damage of his hometown last weekend and was speechless by what he saw.
"I wanted to do something so I called Linda (Thieman of St. Henry) and she got the ball a rollin' like she always does," he says. "Around here you just ask and people show up."
The bus stops at Sts. Peter and Paul Catholic Church, where its basement, two school buildings and nearby daycare center were invaded by the swollen Blanchard River. Floodwaters quickly receded but left scars: buckling linoleum, watermarks 5 feet up in some rooms and drywall soaked like a sponge.
"We're just waiting now on insurance agents to come and tell us what we can keep, what we can't," says the church's associate pastor, the Rev. Tim Knepper, a former seminary classmate of Rev. Fortman. "This has been very catastrophic."
The community, the Red Cross and the Salvation Army are helping and we're grateful, says Knepper, who spent an internship at the St. Henry church in 1997.
"Putman County is just like Mercer County in that way. When there is tragedy, people come together," he adds, as sweat trickles down his forehead.
The 300-plus students in first- through eighth-grade at the Catholic school will be absorbed next week into the Ottawa-Glandorf public school until their own is ready. Church officials cannot yet tell their parishioners - 1,700 families - when that will be.
The fear returns to Knepper's eyes as he recalls the rising water. He can't swim. He stayed in the rectory near the church until the water outside was only ankle deep.
"When I woke up last Thursday morning, all I saw was a sea of water," he says.
But senior pastor, the Rev. Tom Hemm, courageously visited his congregation by boat, while Rev. Knepper says he "stayed put."
As volunteers scramble about, the church secretary talks with head maintenance man Glen Beutler about a new problem. There is a wedding Mass on the schedule for Saturday and still no electric in the church.
"We have a generator," Beutler tells her and she smiles with relief. The news will surely comfort the bride-to-be, she adds.
The last time the village was flooded to this extent was in 1913, says Jeff Herman, a 16-year veteran teacher at the Catholic school.
"I've never seen water come up as high as it did in this parking lot last week," says Herman, who is lending a hand today with his wife, Kathy, also a teacher at the school.
"This is like the pictures you see on the world news, not in Ottawa, not here," says Kathy Herman.
Jeff Herman tells how he and others tried fruitlessly to save items from the basement of the elementary building Wednesday night until the metal doors protecting them from the swift-moving floodwaters began to bulge.
"At about seven o'clock we had to abandon the place. We told Father it wasn't safe, it was time to go," he recalls.
It's mid-morning and the Mercer County crew have voraciously tackled more than half of the items on the list they were asked to complete by the end of the day. Their T-shirts are soaked in perspiration from the 99-degree heat outside. Insulation is stuck to their tennis shoes and boots.
More than a dozen St. Henry High School students - all members of the youth group - work alongside the adults, some of whom are in their late 70s. Together they leave classroom walls naked as they haul load after load of wood and other water-soaked debris to bulging piles outside.
Inside the nearby daycare center, lime and baby blue painted walls still accent the colorful kiddy borders where 90 little ones once scampered about. Silencing the buzz of a noisy drywall cutter is the appearance of the Most Reverend Leonard P. Blair, bishop of the Toledo Archdiocese. He has come to thank the volunteers. Of the six parishes he is visiting today, he's sure this is the worst.
"This parish's damage is significant," he begins, as a hush falls across the room. "But my heart really goes out to the people who lost their homes. We all know our neighbors to say hi, but this is really bringing them all together."
Some houses in the same neighborhood were moved off their foundation from the rushing water and will certainly be demolished, residents say.
Bishop Blair personally thanks the "good people of Mercer County" before finishing a bottle of water and heading back to the church.
Following a meal, courtesy of the Salvation Army, the group boards the bus for the trip home. It's after 5:30 p.m. and the kids who worked non-stop all day are not weary like the adults. They're rowdy. They're rejuvenated. They want to talk - loudly.
"I had fun. This was good hard work, and I'd come back tomorrow if they want me to," says Matt Siefring.
Skylar Leugers calls the day a "good experience."
"It wasn't all work, we had some good times," Leugers says, as his friends joke with him about not pulling his weight.
The girls, who earlier swung axes alongside their male counterparts, are a little more subdued.
"Seeing those Bibles laying out, all ruined," Lindsay Balster says, her voice trailing off. "I kept thinking about all the cool stuff we have and how I would feel if this ever happens to us. I'm just glad we could help."