Friday, August 31st, 2007
Marion not at its best but still is victorious
By Randy Bruns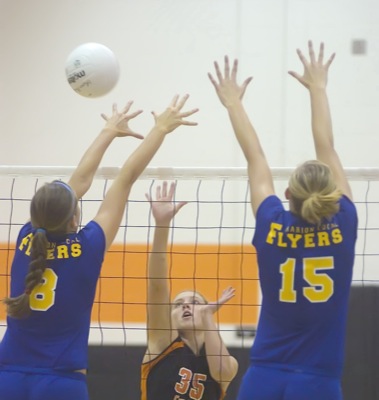 COLDWATER - The old adage about the difficulty of getting conference wins on the road proved true again on Thursday night, as the Marion Local Flyers struggled, but survived, to post a 25-27, 25-14, 26-24, 25-17 victory over the Coldwater Cavaliers.
The Flyers boast a big-hitting front row capable of putting the ball away, but their troubles on this night came behind the service line, as they committed 12 service errors. The Cavaliers took advantage of the Flyer miscues with solid ball control and a stout hitting effort by senior Kelley Lefeld, who tallied a game-high 14 kills on the night.
Things went the Flyers' way early in the first game, as they vaulted out to a quick 8-2 advantage, but the Cavaliers rallied and took their first lead at 12-11 after five straight service points by Melissa Kahlig. The hosts later took a four-point lead at 18-14, but things tightened up after that as the game was tied five times before a hitting error gave the Cavaliers the win.
Marion got back on track in game two, breaking open a close game and ran away to tie the match at one apiece. With the visitors leading 13-10, Alyssa Winner and Abby Niekamp each served up a pair of winners to give the Flyers an insurmountable lead, and Kristen Bergman later finished things up with four straight winners.
The best action of the night occurred in the third game, as neither team could manage a lead bigger than four points the entire way, and the game was tied 14 different times.
The Cavaliers went ahead 19-15 after a pair of aces by Melissa Kahlig and later held a 23-20 advantage, but the Flyers didn't give in. A block by Megan Barhorst and an ace by Niekamp helped the Flyers rally to take a 24-23 lead, and after the teams traded kills, a violation on the Cavaliers ended the game in the Flyers' favor.
Marion put on a huge late-game run to close out the match in the fourth game. Though the Flyers held the lead most of the game, the visitors couldn't put away the Cavaliers, as they stayed within four points most of the way. With the score 21-17, though, the Flyers got a pair of kills and an ace, and a final Cavalier hitting error ended the night.
Though she wasn't entirely pleased with her team's play on the night, Marion coach Amy Steininger was glad to start league action off with a win.
"Any time you win in the MAC it's a good thing," said Steininger. "We still have a lot of things to work on, though, and I think that showed tonight. Our serving, serve receive, and blocking all struggled tonight, but we found a way to win. That's what matters, because in the MAC you're going to win ugly sometimes."
Coldwater coach Mandy Diller thought her squad gave a good account of themselves against a talented Marion team.
"I thought we played well tonight, and it was a good game for us," said Diller. "We did a lot of good things tonight, and the things that we didn't do well are fixable things that we can build on to make us better. Overall, I'm pleased with how things went tonight."
Marion's hitting attack was led by Bergman and Winner, who each tallied 13 kills, while Niekamp and Barhorst added 12 and nine, respectively.
Lefeld's stellar night earned kudos from both coaches.
"She's tough," said Steininger. "We were putting up a big block but she was hitting right around it. She's a really nice player."
Diller was equally effusive in her praise for her star senior.
"Kelley's arm swing has really speeded up," said Diller. "She's really starting to play some smart volleyball. She's putting the ball where it needs to go, and with her height she's able to see where the holes are at. She's playing tough, and we need her to keep doing that the rest of the season."