Saturday, September 1st, 2007
Flyers snap Cavaliers' streaks
By Randy Bruns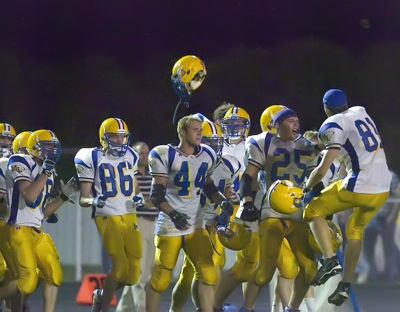 COLDWATER - On Friday night, the Marion Local Flyers went where no team had gone before - at least for the past six years.
Marion snapped Coldwater's 35-game home win streak - a stretch that dated back to 2001 - by dominating the Cavaliers on both sides of the ball on the way to a 35-14 victory.
The win also helped the Flyers end their own streak of futility against the Cavaliers, as they had gone winless in their previous six meetings, including a pair of blowouts the past two years.
Things were much different this time around.
After spotting Coldwater the game's opening score, Marion put up 28 unanswered points and short-circuited a late rally by utilizing a punishing rushing attack.
The visitors went to the ground 53 times on the night, and though they averaged just 3.5 yards per carry, they got their yards when they needed them most. Marion converted on nine-of-13 third-down situations, which allowed them to control the clock and the game.
"We thought maybe we could pound on them a little bit, but we've also thought that a few times in the past and couldn't get it done," said Marion coach Tim Goodwin. "You've got to hand it to our offensive line, and several of those guys are seniors who are playing varsity for the first time. Those are the kind that make you happy to see have success, because they stayed in the program and worked hard, and tonight it paid off for them."
The Flyers made forays into Cavalier territory on their first two possessions but couldn't convert, and the hosts made them pay on their next possession. Quarterback Cory Klenke hit three big passes on the drive, the last of which went for 19 yards to Tony Harlamert and brought the ball to the Flyers' one-yard line. Klenke then barged in on the next play to give his team a short-lived 7-0 lead.
That's when the Marion offense really got cranking.
After a kickoff return by Ben Smith brought the ball near midfield, it took the Flyers just five plays to crack paydirt, as signal caller Chris Stucke rolled left and sprinted to the end zone to tie the game at 7-7.
Marion's defense then quickly forced a punt, and after three runs netted a first down, Stucke hit Jason Wolters for an apparent touchdown, but it was called back due to a penalty. Undeterred, Stucke went right back to his junior receiver, and this time Wolters hauled in the pass for a 35-yard scoring strike that stayed on the board.
Stucke then came up big on defense by picking off a Klenke pass and returning it to the Cavalier 17. This time the Flyers stayed on the ground, as Ben Schaefer capped off a six-play drive with a one-yard touchdown run that made the score 21-7 at the half.
The Flyers picked up right where they left off on their first possession of the second half. Effectively mixing run and pass, Stucke directed his team to a nine-play drive that ended with a nine-yard touchdown catch by senior Tyler Obringer.
Coldwater got a lift on the ensuing possession when Keith Wenning came in at quarterback and lit up the Marion defense. The sophomore hit on four of his five pass attempts, including a 56-yarder, and got his team back on the board with a 13-yard strike to Tony Harlamert.
After the two teams traded punts, though, the Flyers put an emphatic capper on the night with a bruising display of rushing prowess. Starting on their own 44, the visitors went the distance on 14 running plays that gobbled almost eight minutes off the clock. Schaefer went the last three yards for the final touchdown, which was a fitting ending to a stellar performance for the senior.
Schaefer rushed 28 times on the night for 91 yards on top of playing tough on the defensive side of the ball.
"Ben Schaefer - I'm not sure what more we could ask out of him," said Goodwin. "He's his own special type of runner and he can be darned good at what he does."
Not surprisingly, the Flyers dominated the key statistics in the game, as they gained 19 first downs to just eight for the Cavaliers and controlled the time of possession by almost a two-to-one margin. Field position was another key factor in the Flyers' favor, as their average starting position was their own 48-yard line. In comparison, the Cavaliers started their drives an average of 30 yards further back.
Coldwater coach John Reed was gracious in defeat and effusively complimented the Flyers.
"All the credit goes to their preparation, their coaching, and the effort their players gave," praised Reed. "They've got an experienced offensive line, and their quarterback was just outstanding. You could just see their will to win was just tremendous. You can't be bitter or angry of any of that stuff - you've just got to give credit where credit is due. I'm very proud of our team, though, because they continued to play hard, and I'm proud of who they are."
Coldwater, now 1-1 on the year and 0-1 in the Midwest Athletic Conference, will look to get back on track Friday when it travels to New Bremen. Marion (2-0, 1-0) will face another pivotal MAC matchup when St. Henry pays a visit to Booster Field.