Wednesday, September 5th, 2007
Royalty makes stopover in Celina
By Shelley Grieshop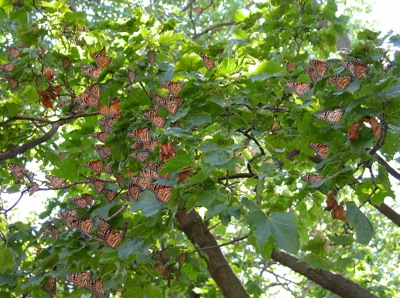 Betty Anderson's rural Celina home recently became a temporary hotel for thousands of monarch butterflies.
The beautiful insects with vivid orange and black markings are on their migratory path back to Mexico and have taken a liking to Anderson's 2-acre, wooded property along U.S. 127. The butterflies are clinging in droves - dozens hanging from several branches.
"We've lived her 50 years and never saw anything like this before," she says. "Actually, we hardly ever see any butterflies at all anymore."
Although the monarchs often are bold around people, too much commotion will make them take flight and circle the air like a scene from a sleep-aid commercial.
September is the time of year when monarch butterflies migrate to Mexico. It all begins in the spring when the butterflies head north, even as far as Canada. But by late August, they begin their long path back home to a specific area about 60 miles west of Mexico City.
What's really odd is the round-trip adventure takes four generations of monarchs to complete, meaning the great-great-grandchildren of those who began the journey are making the trip home without elders to show them the way.
"These monarchs have never even been to Mexico before," says Lee Paulson, a member of the Master Gardener program of Ohio State University. "So how do they know where they're going? It's just amazing."
Paulson, who speaks to organizations on how to build gardens to attract monarchs, says it's extraordinary how the beautiful creatures use their instincts to find their way back.
Before 1975, no one knew where the monarchs were heading each fall. Then scientists at the University of Kansas began a Monarch Watch program. Using thousands of volunteers across the country, they capture, tag and release the butterflies so they can track their path back to Mexico, Paulson says.
"This place where they go is of a certain altitude and loaded with trees. They say that so many of them hang on certain trees that sometimes the branches actually break," he says.
Like any weary traveler, the monarchs need a break on their long trek south and have chosen the Anderson landscape - the front and backyard - to rest and store up enough sugar to complete the trip, he explains. From Ohio, the "danaus plexippus," as scientists call them, have another 1,695 miles to go until they reach their homestead, the transvolcanic range in Mexico.
Anderson says the monarchs were the "thickest" on Sunday but have dwindled in numbers each day since their arrival last Thursday. She says the overwhelming sight didn't frighten her and she even joked that perhaps they were a sign from her late husband who passed away in February.
"Maybe it's just Warren," she says with a peaceful grin, as they circle a few feet above her head. "They really are beautiful to see, a little awe-inspiring."