Thursday, September 6th, 2007
Gagle likely to make debut Friday
By Ryan Hines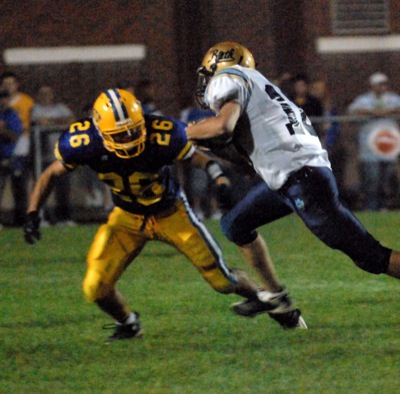 The struggling Celina offense will likely get a boost on Friday night when the Bulldogs welcome archrival St. Marys in the home opener for the Green and White.
Celina head coach Jerry Harris wasn't ready to name Derek Gagle the starting quarterback during a Wednesday afternoon telephone interview, but the Bulldogs' mentor said it would be a "good chance" that the junior would indeed get the nod.
Gagle, last year's starting quarterback for Celina, missed the first two games this season with a separated throwing (left) shoulder.
"It's not a definite, but it will probably be Gagle. There's a good chance that it will be him," said Harris about the possibility that Gagle would be behind center on Friday for the annual Battle of Grand Lake.
Gagle's experience from last year should help ereate a spark for the Bulldogs that have scored just 21 points this year in their 0-2 start.
Harris is hesitant to officially name Gagle the starter since the left-hander practiced for the first time on Tuesday and has yet to test the injury against any contact.
"He threw for the first time on Monday and practiced for the first time on Tuesday since the injury, so I'm not ready to say he'll start for sure until we see how he feels from going through practice," said Harris. "Mentally he's at 100 percent, but we are unsure how he'll be physically. He is probably at 80 percent right now. I'm just impressed with his attitude most for wanting to try and get back so quickly after the injury. That shows me a lot of heart."
St. Marys head coach Doug Frye fully expects to see Gagle at QB and knows it will make an impact on the Celina offense.
"With Gagle back in the lineup, Celina is a better team right away because he is a veteran at quarterback and there is no substitute for experience," said Frye. "You can't replace experience. He's a mature quarterback that has already gone through a year as the starter there. We've watched him on film and we know what type of athlete he is, now it's just a matter of making sure we do what we need to do to stop them."
Harris was quick to point out that freshman Ryan Paulus did an "outstanding job" in his two weeks as the Celina starter.
"He did a lot of good things, just needs some more time," stated Harris about Paulus who completed five of 15 pass attempts for 76 yards with one touchdown and two interceptions.
An offensive jolt is just what Celina needs with St. Marys (1-1) in town renewing their Western Buckeye League rivalry.
There may never be a day when St. Marys runs a 50/50 balanced offense between the run and the pass, but the 2007 Roughriders have imprerssed Harris.
"This may be the best team St. Marys has had since Doug Frye has been there," stated Harris. "They physically beat up Piqua and moved the ball up and down the field but hurt themselves with a couple of fumbles on drives. Piqua couldn't stop their running game and they have now incorporated a passing game and they have looked good doing it."
Second-year starting quarterback Derek Dunlap was 8-of-15 passing for 128 yards last week against Lima Bath and has proven to be a nice complement to a perennially tough rushing attack.
"I think that we have reached our quota for passing this year already in just the first two weeks of the season. We just better settle in and go back to running the ball again like we are known for," joked Frye regarding the unusually high amount of pass attempts thus far by his Roughriders' offense. "The big thing for us is that we have been able to protect the quarterback and give him time to throw and that's all because of our offensive line. We have a mature quarterback and he can make plays back there if we need to throw the ball. He has five or six receivers that can make a play for us."
Two-time defending WBL rushing champion Koby Frye has rushed for over 3,000 yards in his St. Marys career and Dylan Dietz, Kenny Bruce and Sam Rammel will also see carries in the rush-heavy Roughriders' offense.
St. Marys has talent at the skilled positions, but Harris' main concern is the size of the Roughriders in the trenches.
"We'll be outweighed by 40-50 pounds per person on the line and they are experienced too," said Harris.
Size will be an asset for St. Marys but Frye has been impressed with the quickness and aggressiveness he has seen in Celina.
"Coach Harris and his staff have done a tremendous job of reinstilling toughness and enthusiasm into the program again," said Frye. "I really think this is the best Celina team that I have seen in six or seven years. They have lost two, but they have been a tight two losses."

NOTES - Two parachuters will be delivering Friday's game ball at approximately 7:25 p.m. to Celina Stadium. ...TV 44 will be sponsoring a Tailgate Party of the week also on Friday and it will be located in the east school parking lot off of Wayne Street with 500 hot dogs and activities planned for those in attendance.