Friday, September 7th, 2007
St. Marys shuts out Celina, 2-0
By Gary R. Rasberry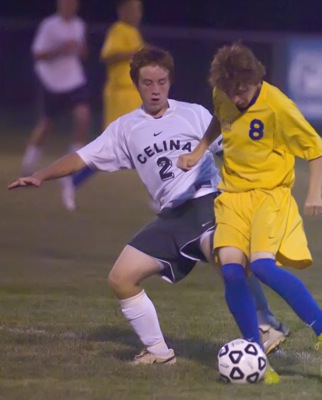 Given the defenses were dominating play in the first half, the St. Marys-Celina boy's soccer match on Thursday had the feel that one goal would do it for either team.
The Roughriders got that one goal, then added one late in the match to post a 2-0 win at Celina Soccer Stadium in Western Buckeye League action. St. Marys goes to 2-0 in the WBL and 2-2-1 overall as Celina drops to 1-1 and 2-3.
"Four years," said St. Marys coach Dave Ring, referring to the last Roughrider win over Celina. "The seniors tied them as freshmen. I told them they didn't want to leave having not beat Celina. Now they fulfilled that goal with a couple more to finish."
In the first half, St. Marys had few scoring chances as the Bulldog defense clamped down. Celina had plenty of opportunities to score in the first 40 minutes of play. Celina had eight shots on goal in the half, but a tremendous effort from Roughrider keeper Dan Imwalle kept the Bulldogs scoreless. Imwalle made six saves and used a strong boot to punt the ball past midfield.
"It had been an issue up to today," said St. Marys coach Dave Ring about the keeper work. "We had competition for (Imwalle's) job and Dan stepped up to it. I'm proud of Dan Imwalle."
"First half was a great half for us," said Celina coach Bruce Strine. "We controlled the ball and kept the ball on our end of the field. Some nice looks at the goal."
St. Marys did some retooling on defense in the second half, which extremely limited Celina's shots on goal. Celina had just three tries in the second half.
As the second half went past the halfway mark, St. Marys looked for the right shot. Finally with nearly 15 minutes left in the match, the Roughriders got their chance on a corner kick. Zach Albert booted the ball into the box and Seth Hertenstein wriggled free from the defense and headed the ball past Jordan Bertke at the 14:59 mark to put St. Marys up 1-0.
"It was just an awesome job," said Ring of the first goal. "We work on set plays and it was just awesome."
"Our Achilles' heel has been set pieces," said Strine. "The goals scored on us have been on set pieces. Then again tonight. A corner kick, a set piece, we lose a man and he puts the ball in the back of the net."
Celina worked to try and get the equalizer, but St. Marys notched up the defense. With the clock nearing two minutes, St. Marys enacted the spirit-crusher as Justin Moran put a rebound in off a Bertke deflection with 2:13 left to make it 2-0.
"Those two goals, you couldn't ask for better scoring opportunities and better work from my boys. I'm proud," said Ring.
"We were very disappointed in our front tonight," said Strine. "In the first half we had plenty of shots and plenty of opportunities. Any time you let a team hang around like that, it's your fault. We've got nobody to blame but ourselves. We'll have to learn from this loss and get better."
The junior varsity match was played to a scoreless tie.
Celina is back in action on Saturday, hosting Greenville with the jayvee match set for 10 a.m. St. Marys hosts Botkins on Saturday for a noon varsity start.