Monday, September 10th, 2007
Marion one of few to teach Chinese
By Margie Wuebker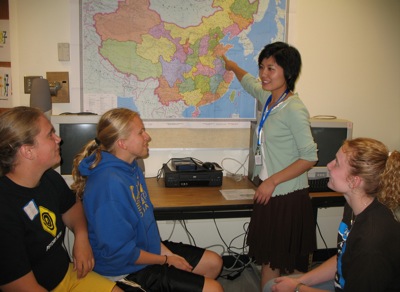 MARIA STEIN - Seniors Lisa "Bian Sha" Bergman, Amy "Ouyang Qing" Droesch and Kristy "Sha Riti" Shaner are among 31 high school students learning a new language.
Marion Local is one of 12 school districts in Ohio offering Mandarin Chinese thanks to a cooperative effort between the Ohio Department of Education and Hanban, the executive body of the Chinese Language Council International.
Other districts offering the language course are in Bellefontaine, Belpre, Chagrin Falls, Crestwood, Genoa, Hubbard, Jackson, Kent, Piqua, Shaker Heights and Tipp City.
Teaching the course at Marion Local is Shao Jingjing, a 27-year-old teacher from the Shandong Province who speaks fluent English. She is staying with host family Paul and Penny Mizer of Maria Stein.
"I come from the small city of Jining (population of 1 million) and I teach at the junior middle school (3,000 students in grades 6-9)," she says. "I love my students here very much and they are very smart."
Shao, who adheres to the Chinese custom of using her surname first and her given name second, has noticed some distinct differences between the two school systems.
In China, classes begin shortly after 7 a.m. and continue through 5 p.m., with 20-minute breaks after every two classes. Additionally, students participate in 20 minutes of reading and have 10 minutes of free time after each class. Teachers and pupils have a two-hour rest period at noon, with the majority going to their nearby homes for lunch and nap time.
"Students at Marion Local are eager to learn and very creative," she says. "They listen and are not afraid to ask questions. In China, the students are sometimes creative but very shy. They want to ask questions but hesitate. Sometimes they come to the teacher's office to ask questions away from all the class."
Bergman, a senior who also is taking Spanish IV and German III, is happy that Marion Local is providing her this unique opportunity.
"I'm a vocal person, but I never imagined the most commonly used language would be offered here," she says.
Droesch proclaims Chinese is her favorite class even though school has been in session less than a month. She particularly enjoys Shao's class participation activities, which include learning songs and playing games to stimulate learning.
"I'm going into business," Shaner says. "And being able to take Chinese in high school should be a bonus when I get to college. I'm normally kind of sleepy in the morning, but I'm wide awake for second period."
Like any high school foreign language course, the goal is not to end up with students being fluent in Chinese but to give them a background to spark further studies on the collegiate level. As a first-time offering, Shao's students receive credit but there are no grades, only pass or fail designations.
Superintendent Carl Metzger says there are several reasons for adding Chinese to the school curriculum.
"It adds rigor since it is a very demanding language to learn and it meets one of our goals of improving our curriculum and educational options," he says.
With Mandarin Chinese being the number one spoken language in the world, he believes gaining a background will help students with future job opportunities. Stressing the need to always think globally, he adds Asia continues to be the destination of a sizable share of Ohio's exports. Since 1999, Ohio exports have nearly quadrupled with the Buckeye State becoming home to Chinese-owned companies that employ American workers.
"We had hoped at least 10 kids would register," Metzger says of the course. "And we were delighted to wind up with 31. There is every reason to believe the numbers will double next year."
Shao currently teaches four periods per day and spends the remainder of her day working with her mentor, Spanish teacher Ashley Minnich, and observing classes elsewhere in the building.
Future plans include offering younger students an opportunity to experience another culture. She believes there will be even more interest with the approach of the upcoming Olympics in Beijing. Future speaking dates in the community will afford adults with the same opportunity.
Shao receives a stipend from the Chinese government and was chosen for the program through a highly competitive process. The Marion Local board of education covers the cost of medical and dental insurance at a cost of $424 per month for nine months.
The teacher hopes to visit various sites in the United States during her stay, including Niagara Falls, New York City and Hollywood. In addition, she will be serving as a chaperone on the eighth-grade trip to Washington, D.C., later this fall.
Shao, who plans to marry her longtime Chinese beau next year, does not know at this point whether she will return to her homeland or stay in this country another year.
"This is a good program that expands horizons," she says. "I, too, am learning as much as my students."