Wednesday, September 19th, 2007
Cavs win first MAC contest over Indians
By Gary R. Rasberry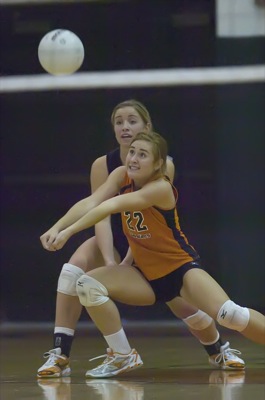 COLDWATER - Coldwater improved to 7-3 on the season and picked up the first Midwest Athletic Conference win of the campaign in beating Fort Recovery on Tuesday night at The Palace.
The Cavaliers had to do a bit of a comeback to beat the Indians (4-7, 0-4 MAC) after Fort Recovery took the first game 25-22, thanks to five big kills by Kinsey Wenning. Coldwater used a strong service run from Maria Wermert in game two to even the match with a 25-20 win.
In game three, the Cavs trailed 16-13 before coming back, thanks to another Wermert run to take game three 25-20. In the final game, both teams battled to the wire before the Cavaliers took the match with a 25-22 fourth game.
"It's kind of like I told you last night. Same scenario: let's dig a hole and try to fight back and win the game," said Coldwater coach Mandy Diller. "This was the first where we lost the first game and were able to come back and win the next three."
In game two, the Indians led 6-2 early before the Cavaliers got a sideout as Wermert came into serve. Wermert, who has an unorthodox serving style that has her starting on one side of the court, doing a half-circle to the other side and jump-serving, ran off a string of eight straight points, five coming on Fort Recovery hitting mistakes, to make the score 11-6 before the Indians got the sideout.
From there, it was a matter of holding on as the Indians cut their deficit to 20-18 at one point, but Coldwater stayed in front as the Indians had back-to-back hitting errors to make it 25-20.
"Mental errors and mental mistakes killed us," said Fort Recovery coach Diana Rammel. "Little things that they should know that they don't know is killing us."
The second game again saw the Indians get a solid lead at 13-9 before the Cavaliers came back. This time, it was the serving of Marla Hess that allowed the Cavaliers to get the lead at 17-16 thanks to an ace and two kills by Kelley Lefeld. Fort Recovery responded and tied the game at 18, but a service error by Rachel Tobe proved to be trouble as Wermert came up again to serve for the Cavaliers.
This time, Wermert served up five points to give the Cavaliers game point at 24-18. Fort Recovery got the ball back on a Kelsey Wuebker kill and added a point on a Coldwater net violation, before Brooke Muhlenkamp got a kill for the Cavs to end the game.
The final game replayed like the previous two. Fort Recovery was able to stay point-for-point with the Cavs, holding a 13-11 lead. Hitting errors, though, allowed Coldwater to get back into the game and take the lead for good at 15-14.
Coldwater was able to get a little breathing room at 22-18, but Fort Recovery managed to stave off the match point for as long as possible, getting the score to 24-22 before a hitting error made it game and match for Coldwater.
"Fort Recovery is a very athletic and good team. I think we finally took a team we were comparable with and played harder for once," said Diller. "It was a good win for us. Last year, it went to five and was a nailbiter to the very end. We struggled the last two years with them. To come out ahead, it felt good."
"It's a matter of who wants it the most," said Rammel. "For some reason, we're just not wanting it."
Coldwater took the junior varsity match 25-13 and 25-16.
Both teams are back in conference action on Thursday. Coldwater hosts St. Henry while Fort Recovery plays host to New Knoxville at Fort Site Fieldhouse.