Thursday, September 20th, 2007
Celina and Coldwater volleyball teams going pink
By Shelley Grieshop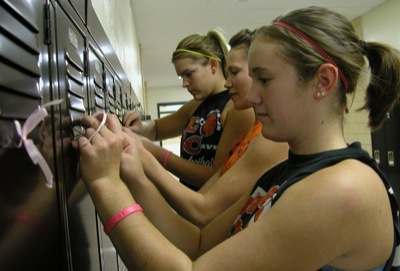 COLDWATER - The idea of designating a home volleyball game as a fundraiser for breast cancer struck a personal note for the Coldwater High School team this year.
When high school junior Marla Hess first learned about Volley For The Cure - a challenge to high school volleyball teams in Ohio to raise money and awareness for the cause - she immediately thought about her mom.
"It was kind of ironic because my mom was going through it at the time," says the 16-year-old.
Marla's mother, 43-year-old Kim Hess, was diagnosed with breast cancer in June and is currently undergoing treatment.
Volley For The Cure made its debut in Ohio in 2006 when two volleyball teams - Sycamore (Cincinnati) and Loveland turned a regular season game into a cancer benefit and educational night out for their fans. Attendance that night went from their normal 50-75 people to well over 1,000 and the girls raised more than $4,000 for the cause.
Volley For The Cure is sponsored by the Ohio High School Athletic Association and Volleyball Coaches Association, the Susan G. Koman Foundation and Molten USA Inc.
The Coldwater and Celina teams will do their part during a regular season match-up hosted by the Lady Cavs on Tuesday. The junior varsity game begins at 6 p.m. and the high school showdown will follow.
The goal across the state of Ohio is to get 800 high school teams interested this year. Currently, there are 328 schools signed up including many in the Grand Lake area.
Although breast cancer is rare in women under age 40 (less than 5 percent), some young women are at a high risk due to family history. Also, cancer in young females often is more aggressive and results in lower survival rates.
Coldwater High School volleyball coach Mandy Diller says she wasn't sure how the team would respond when she first introduced the idea this summer.
"With what was going on with Kim at the time ... well, I don't always believe in this stuff but I felt it was kind of a 'sign,' " Diller says. "As for the girls, they were ready and willing."
Both teams will be wearing pink jerseys on Tuesday, the color chosen for the national campaign for breast cancer awareness. Educational brochures will be distributed during the ga me. Pink T-shirts also are being sold at the school and anyone wearing one to the game will be admitted free.
Team members and their families are baking cookies with pink icing to sell, as well as pink stretch wristbands and 50/50 tickets. Organizers say 100 percent of all donations will go directly toward the fight against breast cancer.
"The girls made pink posters and hung them around the school. They also tied little pink ribbons on lockers and cars," Diller says. "They've really got their heart in this."
Marla Hess says her mother's illness has brought their family closer together, and in a similar way, is doing the same thing for the Coldwater team. The young lady is excited about the upcoming game, although a little shy about the attention it has brought her and her family.
"I think this is a good way to tell others" about breast cancer, she says. "I really want to do this for my mom."

If you go:
What: Volley For The Cure
When: Tuesday during Coldwater/Celina volleyball match (6 p.m. junior varsity, 7:30 p.m. high school)
Where: The Palace at Coldwater school
Why: To raise money and awareness for breast cancer