Saturday, September 22nd, 2007
Coldwater ends suspense in a hurry
By Gary R. Rasberry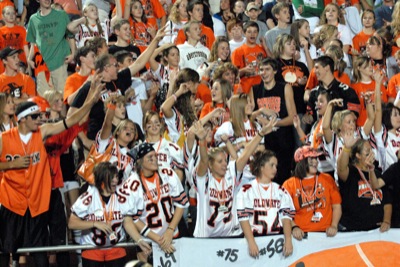 COLDWATER - Stopping St. Henry on its opening drive of the game provided the only suspenseful moment of the 2007 rendition of The Backyard Battle.
Coldwater shut down St. Henry for the rest of the game and improved to 4-1 in a 42-0 shutout of the Redskins at Cavalier Stadium, extending the Cavs' win streak against the Redskins to 11 games. St. Henry drops to 3-2 with the loss.
The game started with St. Henry putting together a 15-play drive that took up nearly half of the first quarter. Solid running from Brent Prenger and several key passes from Brad Stahl kept the Redskins chugging. St. Henry converted one third-down conversion and added a fourth-and-one conversion on the drive that saw the Redskins make it all the way to the Coldwater 18-yard line.
That's when Coldwater notched up the defense. On first down, Prenger was hit for a one-yard loss. Stahl then tried to look for Corey Puthoff on two straight plays, only to have the Cavalier secondary shut down the passing game. On fourth-and-11 from the 19, Stahl found Shawn Dues for a completion inside the 10, but two penalties were called. Coldwater declined the ineligible receiver call, but took the illegal pick, which resulted in a loss of down and gave Coldwater the ball.
After that, St. Henry managed to get into the red zone just twice more in the game.
"You could kind of see the momentum turn at that point," said Coldwater coach John Reed of the Redskins' first drive. "St. Henry came out ready to play, there was no question. They came out to make a statement. The defense gave up some big plays in that drive. Then when we stopped, I think you could see our confidence build and build."
Coldwater got the scoring going on its second possession of the game, made possible when Cory Klenke intercepted a Stahl pass and took it back to the Redskin 3, where Tony Harlamert scored the first of four touchdowns on a burst into the end zone.
After a St. Henry three-and-out, Coldwater marched 58 yards on six plays, with the bulk of the yards coming on an option pass from receiver Zach Kaup, who found Ryan Geier for a 25-yard strike to put the Cavaliers on the Redskin 17. This time Klenke called his own number on a three-yard run to make it 14-0 after the Mario de la Rosa PAT.
St. Henry again had to punt after three plays, allowing Coldwater to head to the end zone again. This time Harlamert scored from a yard out to make it 21-0.
Coldwater capped off the first half with Keith Wenning finding Dusty Rutschilling for a 23-yard touchdown pass with 61 seconds left to make it 27-0.
Harlamert put the icing on the cake early in the third quarter, scoring from 67 yards out to start the third quarter, then later scoring from eight yards out. Harlamert carried the ball six times for 93 yards and scored four times.
Klenke had a solid night, connecting on six of 10 passes for 105 yards while Wenning was 3-of-6 for 57 yards. Geier finished with four catches for 83 yards while Harlamert had four catches for 68 yards.
"We've been kind of a fragile football team," said Reed. "We haven't really known who were are yet. We haven't really known how good we are yet. I think we took some big strides tonight, proving to ourselves that we're a good football team."
St. Henry coach Jeff Starkey made just brief statement to sum up the contest.
"They (Coldwater) just competed harder than us. They played harder than us. They were better prepared and it showed tonight," said Starkey. "If our football doesn't learn how to play, how to compete with the good teams in our league and play with a little bit more toughness and more pride, it's going to be a long season."
Coldwater returns to action Friday, traveling to Rockford to face 4-1 Parkway while St. Henry heads to Shelby County to face the Anna Rockets.