Wednesday, September 26th, 2007
Fans come out to support good cause, and see great match
By Ryan Hines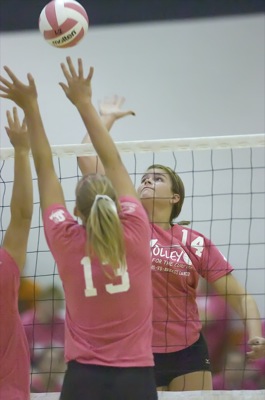 COLDWATER - For the first time in my life, I felt out of place for not wearing pink.
That's because coaches, players, fans and officials were dressed in pink in support of breast cancer awareness all throughout The Palace when Celina visited Coldwater on Tuesday evening.
A packed gym was treated to a thrilling five-game match with Coldwater winning the first two games only to see Celina win the final three in this Mercer County matchup.
The Cavaliers looked in control winning the first two games, 25-23 and 25-22, behind the play of Kelley Lefeld.
However, Celina's Liz Homan led a furious Bulldogs charge as the Green and White extended the match to the limit with 25-17 and 25-15 wins in games three and four.
Coldwater looked to have regained momentum leading by as many as five points late in the fifth game, but Celina came storming back for a 16-14 triumph.
"We didn't come out and play as well as we are capable of playing in the first two games, but I think that we played that way in the last three games," said Celina head coach Carolyn Dammeyer. "Actually, I felt that tonight we played hard and to the level that we are capable of playing at for the first time in five or six matches. We never quit, and I'm happy that we won the match."
Coldwater head coach Mandy Diller was disappointed her team was unable to finish off its county rivals after leading two games to none.
"It's a tough loss to take when you go up two games like we did and then lose the next three," said Diller. "We didn't play to our ability in the final three games and just couldn't get over the hump to finish Celina off. Celina's a good team and showed a lot of heart coming back to win in five games. It's just disappointing that we weren't able to finish. We need to step it up another level."
Lefeld's powerful right arm helped spark Coldwater in the first two games as the senior middle hitter for the Cavs had 14 kills. Her opportunities were limited in the final three games by poor Cavalier passing, but she still managed to finish with 26 kills.
"We couldn't get the ball to Marla (Hess, Coldwater setter) because we were having some trouble with serve receive and then our passing," said Diller. "The passes have to be pretty good to set your middle and we didn't get that in the last three games."
Homan began to make her presence felt to lead the Celina comeback as the Bulldogs' middle hitter started to dictate play at the net.
"In the third, fourth and fifth games, Liz started blocking and she wasn't getting her hands over the net in the first two games," said Dammeyer. "Blocking is the key to our defense and Liz did a great job of getting over the net from the third game on. When you can block, you can stop a good offensive team and that's what we did."
Homan finished the night with a match-high 25 kills and 11 blocks.
Lefeld, Maria Wermert and Ali Wenning found their hitting touch and helped Coldwater to a 12-7 lead in the fifth game.
An intense gathering during a timeout then helped breathe life back into Celina and Homan's hitting, along with Maria Dorsten's serving, allowed the Bulldogs to inch closer. Celina won four of the next five points and got to within two points at 13-11, forcing a Coldwater timeout.
A Dorsten ace and a Homan kill tied the game at 13-13 before a Coldwater hitting error gave Celina match point. Lefeld tied the match for the Cavs with a kill, but a Homan slam and a Coldwater hitting error allowed the Bulldogs to escape with a five-game win.
In addition to Homan's prowess on offense, Cenzie Yoder added nine kills, Kelsey Mastin added six kills and Kelsey Waterman added five kills and 13 digs. Maria Dorsten had 18 assists, Julie Klosterman had 15 assists and five aces while Audrey Harner added 20 digs.
Celina turns its focus back to the Western Buckeye League title race on Thursday as the Bulldogs travel to Kenton to face the Wildcats. Coldwater is back in Midwest Athletic Conference competition on Thursday at Rockford against Parkway.