Thursday, September 27th, 2007
Pupil arrested as dogs sniff around Celina schools
By Janie Southard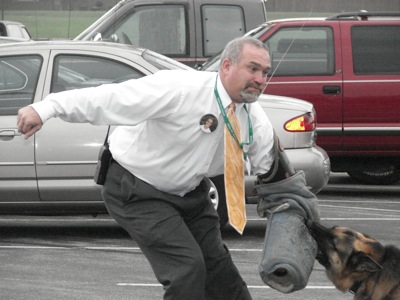 Celina High School, the middle school and Tri Star building were training targets this morning for six drug dogs and about 25 area law enforcement officers. The exercise resulted in the arrest of a high school female for underage possession.
"We had several hits in the high school, meaning there was a residual odor of drugs, but we found no drugs," said Celina Police Chief Dave Slusser, adding it was the residual odor in a vehicle in the student parking lot that led police to a cooler about two-thirds full of beer.
Celina Superintendent Matt Miller confirmed finding the alcohol in the parking lot, but said he could not comment on the arrest as it involves the discipline of a student. He added a tin of snuff also was found in a high school locker.
No hits were made at the middle school or Tri Star building.
"Obviously, we want to stay on top of drugs in our schools," Miller said following the sweep of all lockers this morning. "This kind of exercise helps the police with their K-9 training and helps us with student behavior concerns."
As early classes began this morning, classroom doors at the high school were locked as training teams of cops and dogs began checking every locker in every hallway.
"This is simply routine training for our local officers as well as officers from Michigan and Pennsylvania who are going through the six-week K-9 training (with Al Gill at his dog training facility, Von der Haus Gill German Shepherds)," Celina Police Chief Dave Slusser said. "We also have a lot of officers here from Auglaize County."
At the school were the Celina K-9 unit and some of Gill's dogs, which are from Germany and are trained to take commands only in German. Auglaize County Sheriff's Department has one of Gill's dogs.
Deputy Mike Peterson of the Auglaize County Sheriff's Department put Bandit, a pure black German Shepherd, through his paces down the first floor east hallway.
"(Bandit and I) have been on the road together for about 4 1/2 years. We bought him from Al Gill fully trained for $9,200, and it was a good investment," Peterson said as Bandit finished the lockers without finding anything.
The dog is certified in marijuana, cocaine, crack, methamphetamine and heroin, and he's also trained but not certified in Ecstasy, mushrooms and Kat, a substance currently popular.
Bandit is a passive identifier meaning when he locates the substance he either sits down or lies down and stares at the location. And, he does it time after time for a simple reward.
"All any of the dogs want is to play. They are trained to associate locating a substance with the fact that they can they play with their toy. In Bandit's case, it's a piece of fire hose," Peterson said.
Tennis balls and flexy pipe also are popular toys that are thrown to the dog within seconds of him or her locating a substance.
Bonte, the Shelby County K-9 officer, is the only female in the area.
"Yeah, it's pretty rare to use a female because usually they don't have a high enough drive ... Please, keep in mind I'm only referring to female dogs," Deputy Brad Pleiman of the Shelby County Sheriff's Office quipped following the high school search.