Saturday, September 29th, 2007
Chest tightness, wailing sirens - happy ending
By Margie Wuebker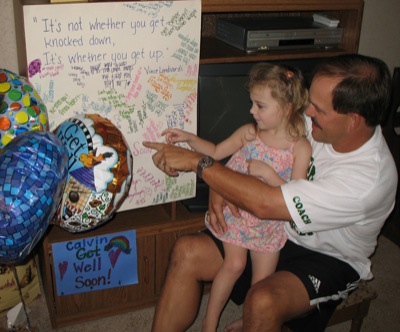 Calvin Freeman no longer takes anything for granted in the wake of two near-fatal heart attacks last week.
Freeman, assistant chief of the Celina Police Department, feels blessed to have a new lease on life with virtually no restrictions once he recuperates from angioplasty.
"I was lucky both times to be in the right place at the right time," he says watching 3-year-old granddaughter Korryn Weaver color pretty pictures. "I basically had 4 minutes to decide what to do the first time and God helped me make the right decision. "Pa-pa' is still here to watch her grow."
Freeman, a 25-year veteran of the police department, had taken vacation Sept. 19 in order to catch up on yard and handyman projects. With extension cord in hand, he headed toward the backyard intending to replace some window trim. An unusual tightness in his chest and jaw interrupted those plans.
"I sat down in the garage and began sweating profusely," he recalls. "Something wasn't right so I drove to the firehouse to talk to the guys."
He had no crushing chest pain, no telltale left arm discomfort, no shortness of breath. However, the symptoms represented a red flag to the trained professionals on duty and lines registering on the heart monitor underscored the need for further medical attention.
Rather than ride in the ambulance, Freeman called his wife Linda and then sat on a fire truck bumper awaiting her arrival. The last thing he remembers is feeling lightheaded before everything went black and his heart stopped.
He did not see the worried faces of Aaron Beougher, Chris Cline, Forest Mercer and Bob Schott hovering over him, experience chest compression associated with CPR, feel the jolt from an AED (automated external defibrillator) or hear the wailing siren of the ambulance bound for Joint Township District Memorial Hospital in St. Marys.
He said he awakened to the sound of someone calling his name amid an overwhelming sense of peace. The lightheaded feeling returned in the emergency room with doctors and nurses close at hand. Once more he lost consciousness only to return enveloped in the same peaceful aura.
Linda Freeman stood nearby watching the drama unfold and knowing her husband's life hung in the balance. Everything happened so quickly - another charge from the AED, the arrival of a LifeFlight helicopter and a speedy trip to St. Rita's Medical Center in Lima.
Immediate catheterization pinpointed blockage in a tricky Y-shaped cluster of arteries. The gravity of the situation did not set in for the 51-year-old patient until the following morning when a cardiologist entered the coronary care unit and expressed amazement he had survived the night.
Specialists recommended triple bypass surgery but the Freemans contacted a relative, Dr. Chad Braun, for a second opinion. He recommended transfer to Riverside Methodist Hospital in Columbus.
Cardiologists there proceeded with angioplasty the following day, indicating they would resort to open heart surgery only if the less invasive procedure failed.
"They told me it would take an hour and a half," Freeman recalls. "Not that much time elapsed before the doctor announced he was finished. I assumed the procedure had failed and I was headed into surgery."
He let out a moan of pure joy upon learning that was not the case.
Linda Freeman also feared the worst when the doctor emerged after less than 30 minutes. Relief swept through her and those in the waiting room when he explained everything had gone without a hitch including the insertion of a stent.
Specialists credit Freeman's lifelong devotion to eating right, staying physically fit and seeking immediate attention as important factors in his survival. He neither drinks nor smokes and all blood test readings are at or below normal levels.
"Unfortunately, there is nothing you can do about genes," he says. "The doctor believes I put off the inevitable at least 10 years. Had the heart attacks occurred at 41, the outcome might have been far different."
The Freemans have been overwhelmed by a flood of prayers, cards, letters, flowers and other tokens of support. He points with pride to a poster from his Celina High School girls varsity soccer players bearing a quote from legendary coach Vince Lombardi: "It's not whether you get knocked down; it's whether you get up."
Released from the hospital last weekend, he takes regular walks around the neighborhood with his granddaughter and is eagerly anticipating a quick return to work.
"I believe in prayer and I give God all the credit," Freeman says. "He made sure every hand that touched me was a healing one."