Tuesday, September 4th, 2007
Boeckman strong in debut as Ohio State starting QB
By Ryan Hines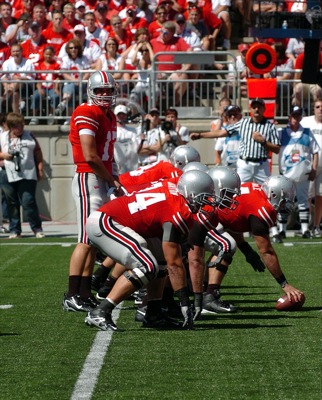 COLUMBUS - Todd Boeckman's life-long dream of being the starting quarterback for Ohio State was realized on Saturday at Ohio Stadium.
And judging from his play on the field, don't look for the St. Henry graduate to give up that position anytime soon.
Boeckman was impressive in his debut as the Buckeyes' signal caller, guiding OSU to a 38-6 win over Youngstown State.
There wasn't much fear for OSU against Youngstown State, since the Penguins are a Division IAA team, so the focus of fans and media alike would be the performance of Boeckman.
In his first start for OSU, Boeckman completed 17-of-23 passes for 225 yards and two touchdowns while leading the Buckeyes to scores on three of four possessions he directed in the first half.
"It's hard to evaluate what I did out there until I get a look at the film," said Boeckman. "My focus is to get better each time I get on the field to help make us a better football team. I made some mistakes out there and made a few wrong calls, but hopefully I'll learn from those for next week."
Boeckman didn't throw an interception, but did lose a fumble when he was sacked by an unblocked pass rusher on his blind side.
All in all, it was a strong debut for Boeckman.
"I thought Todd did a lot of good things," said Ohio State head coach Jim Tressel. "His completion percentage (74 percent) was solid and he had his head up when things weren't perfect, which I think is crucial for a quarterback.
"He had excellent command and his performance was solid, but I'm not ready to say it was a winning performance," added Tressel.
It has been a long wait for Boeckman to take snaps as OSU's starter, but it's a wait that was well worth it.
"I've been waiting four-plus years for this opportunity. It's what I came here (Ohio State) for. Hopefully, I make the best of it," said Boeckman.
Boeckman, who graduated from St. Henry in 2003, enrolled at OSU on a part-time basis the following fall and paid his own way the first year on campus. After being redshirted the next year, Boeckman spent the past two seasons as the Buckeyes' number-three QB behind Heisman Trophy winner Troy Smith and backup Justin Zwick.
In mop-up duty the last two years, Boeckman was 7-of-10 for 86 yards and a touchdown. The strong-armed OSU quarterback surpassed all of those numbers during the first half against Youngstown State.
Tressel, known for his ball-control mentality as the OSU coach, didn't waste any time getting Boeckman involved in the offense on Saturday.
Boeckman threw passes on Ohio State's first three plays in the game covering 15, 41 and seven yards - all to Brian Robiskie.
"We went into the game wanting to work on the pass," said Tressel. "We have new quarterbacks and in my mind you can't ask your quarterbacks to work on their throwing only when its third-and-10 or only when you're behind and trying to catch up."
Robiskie was Boeckman's favorite target on the day, seemingly looking his way on each pass attempt. Robiskie is OSU's top returning receiver from last year.
"He's a guy that can make plays, he made a lot of plays for us last year," said Boeckman of Robiskie, who caught nine passes in the game for 153 yards. "When he's open, I want to get the ball to him."
Boeckman looked calm on the field, but in the days leading up to the first game of the season, the junior QB said that there were some sleepless moments.
"I tried to lie down and I coundn't get to sleep right away," said Boeckman about the night before the opener. "I woke up a few times in the night but couldn't wait for it to get here. This whole week seemed like it took forever."
There were certainly some nerves for Boeckman, but those faded away early in the contest.
"After you get that first snap in, it kind of slows down around you. I knew I had some guys around me who could make plays," explained Boeckman. "After the first snap and completion, I began to feel more comfortable."

NOTES - Coldwater graduate and Ohio State linebacker Ross Homan made six tackles against Youngstown State. ....When Appalachian State defeated Michigan on Saturday, it was nearly deafening in the OSU postgame press conference as media members cheered the Wolverines' loss.