Saturday, September 8th, 2007
St. Marys threads needle for victory on final play
Dunlap connects with Frye for game-winner through the air
By Ryan Hines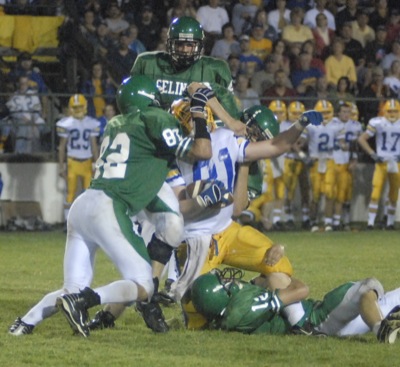 Celina football head coach Jerry Harris said it was the "best defensive performance from this school in several years."
But, that wasn't enough for the Bulldogs to pick up their first win of the season on Friday night at Celina Stadium.
That's because St. Marys' Derek Dunlap threw a 32-yard touchdown pass on a fade pattern to Koby Frye with no time on the clock giving the Roughriders a dramatic 13-7 win over Celina in the Battle of Grand Lake.
With just three seconds left on the clock, Dunlap dropped back to pass and lofted a perfect strike down the sidelines for Frye, who leaped in the air over a Celina defender for a game-winning touchdown reception.
"This is my senior year and my last year against Celina and I just wanted to try and make a play," said Dunlap. "I made a play and then Koby made a heckuva play to bring it down for the touchdown. Normally (Tyler) Norton is split out wide and goes deep, but I told coach that maybe we should switch and put Koby out there and then have Norton drag across. With Koby going deep, I'll take that any time. It was a mismatch."
Frye was originally designed to be the quarterback on the play with Dunlap splitting out at wide receiver in the unusual "lonesome polecat" formation used by the Roughriders.
"I'm not sure exactly what happened on the play, but all I know is that I caught the ball," said Frye. "I'm normally the quarterback in that formation, but I separated my shoulder against Piqua three weeks ago and I could barely pick up my shoulder the past week. I told dad (St. Marys head coach Doug Frye) that I'm not sure that I could throw the ball and I didn't want to be in that situation so I asked if I could switch spots with Derek. He told me to run straight down the field and catch the pig."
"It was a great throw and a great catch at the end," said coach Frye. "Koby wasn't able to throw the pass at the end of the game because he got his shoulder bumped again tonight. I walked into the huddle and Derek and Koby said to switch them around and we did that in about 20 seconds in the huddle. Well executed for that type of a situation."
The incredible ending overshadows another strong defensive performance by the Celina defense, which contained a potent Roughrider offense for nearly the entire evening.
"I can't ask for any more than what our defense gave us tonight," said Harris. "They played hard and did a good job against a good football team. I have nothing but accolades for our defense, they played as good as they could play."
St. Marys rushed the ball 51 times for just 186 yards (3.6 yards per carry) and that is a statistic that doesn't make coach Frye very happy.
"It was just a frustrating night for us offensively. It was anemic and we just weren't worth a darn tonight. We're going to address that this week," said Frye. "But to be able to come down and punch one in to win the football game says a lot about the character of this football team."
It looked like the game was headed for overtime after Celina tied the game with its touchdown at the 4:37 mark of the fourth quarter.
Celina quarterback Derek Gagle, getting his first action of the season, orchestrated a 14-play drive that ended with the junior left-hander finding Kelby Rosengarten open in the back of the end zone on a 20-yard scoring strike on fourth down. Brad Smith's PAT kick knotted the score at 7-7.
St. Marys then leaned on its offensive line for its game-winning drive. Frye, Kenny Bruce and Sam Rammel took turns taking the handoff from Dunlap with chunks of yardage resulting in four first downs, with the clock running.
Dunlap executed a play-action pass to Garrett Barhorst for an 18-yard gain putting the Roughriders in field-goal range at the Celina 15-yard line with under a minute to play in the game. However, Dunlap was called for intentional grouding on the next play pushing the ball back to the 34-yard line and out of field-goal range.
An incomplete Dunlap pass and a two-yard rush by the Roughriders' QB left St. Marys with a fourth down and 27 situation as most fans got settled in for what appeared to be an overtime session.
"I didn't even see the touchdown, to tell you the truth," admitted Harris. "It looked to me like the ball was going to sail out of bounds, but then I saw the official raise his hands. ...I guess there was a moment of disbelief after I saw his hands go up (official signaling touchdown)."
The loss leaves Celina 0-3 on the season with the three defeats coming by a total of 15 points (two losses by six points and one by three). It may sound like a broken record, but Harris again saw improvement out of his Bulldogs for the third consecutive week.
"We did some nice things tonight and I can say that we are better this week than we were last week," said Harris. "Our kids gave great effort again, we just need to make a big play to get over the hump and we aren't getting that right now."
St. Marys improves to 2-1 overall on the season and a perfect 2-0 in the WBL.
In addition to Frye's touchdown reception, the three-year starting St. Marys tailback also rushed the ball 23 times for 99 yards to lead all rushers in the contest.
It was a Celina special teams gaffe that gave St. Marys a 7-0 lead as the Roughriders blocked a Celina punt and Corey Menker dove on the ball in the end zone for a touchdown.
On the other side of the field, Gagle made his season debut and Celina used a spread offense for much of the game with the veteran signal caller behind center. Gagle was 18-of-35 passing for 165 yards with one touchdown and two interceptions.
"We knew that we were going to have to throw the ball tonight and that's why we went with Derek and he gave us an added dimention on offense by being a better passer with some experience under his belt from last year," said Gagle.
Gagle was also the Bulldogs' leading rusher with eight attempts for 65 yards, with 51 of those rushing yards coming on one run.
Dylan Link was Gagle's top target as the junior caught six passes for 60 yards while Rosengarten caught five balls for 28 yards and Zach Sams four receptions for 33 yards.