Wednesday, October 3rd, 2007
Dino-mite find for Lake Campus
By Janie Southard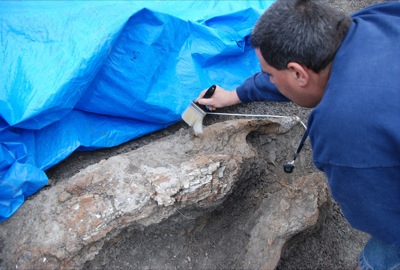 A group of geology students at Wright State University-Lake Campus have a big project ahead of them - restoration of a 250-million-year-old bone they dug up and brought back from the South Dakota Badlands.
The 300-pound bone from the 3-ton, duck-billed dinosaur is an important find, especially for a university the size of Wright State.
"There are a lot of bigger schools that would not even attempt what Wright State just accomplished," Lake Campus geology professor Chuck Ciampaglio says.
Ciampaglio gestures to the femur/hip bone, now in a white field jacket (cast) under one of the lab tables in his classroom.
"This was a big hadrosaur for its species - probably 30 feet long and the weight of two elephants," he says. "That's my guess based on the size of this femur."
The group of 28 on site for the dig included 23 students, half from the Dayton campus and the other from the Celina branch. They used Ciampaglio's classroom as a staging area for the trip, which included outfitting a caravan of two cargo vans, two minivans, an eight-passenger van, two SUVs and a station wagon.
Camping was primitive on the August trip but no one seemed to mind as the students worked long hours unearthing the big reptile and trying to beat an impending storm. They did stop for occasional meals some of which Ciampaglio had personally prepared and frozen for the trip. If nothing would have turned up, at least he could provide "those kids their first taste of real pasta," he jokes.
The first step in a dig begins with the group fanning out in teams on a treasure hunt.
"I can talk and talk in class about how it's done, but there's no way to teach what field experience can teach," he says.
Applying the field jacket to protect the hadrosaur bone is one such lesson.
"You dig down about a foot all around the bone, which leaves it on a kind of pedestal in a hole. Then you cover it with Reynolds Wrap and over that you apply (a wet plaster material) which dries fairly quickly," he explains.
Next the students turned the wrapped bone and did the same preservation on the exposed area.
"Bones can be fairly fragile depending on the minerals in the surrounding soil. The field jacket gives some protection," he says.
This dinosaur was found in the Hell Creek formation near Faith, S.D., on a private ranch. The ranch owner was paid $1,500 to permit the Wright State group to dig on his property, which is known as a site of dinosaur bones. A tiny portion of the reptile already was above ground.
"We had no idea how big this thing was going to be so everyone was really excited with the size of it," Ciampaglio says.
Based on the creature's position with its upper body in a hillside, the professor says the tail must be gone and he speculates the torso and head could still be intact. Should they find the skull on next year's trip, the fee to the rancher would probably be renegotiated as such a find would be worth big dollars in the marketplace.
However, hadrosaur teeth are small change because there are so many. Ciampaglio brings out a replica of a jaw that shows channel after channel of teeth being formed, several thousand during its lifetime. As one set were worn down and fell out, new teeth filled in the empty spots. These grazing reptiles had no front teeth.
"In modern day, hadrosaurs would probably be in the category of deer, camels, elk - maybe like our cattle. They lived in groups and grazed on plants," he says. "An adult's head was probably 6 feet off the ground, and it's very unlikely they ever stood on their back feet as a lot of pictures and movies show."
It was probably a flood that killed the hadrosaur and washed it into the area where it was quickly buried by debris. That area is still a floodplain today.
Prepping the hadrosaur bone and the rhino jaws the students also found during the August trip will take a lot of work. Using chisels, small awls, brushes and magnification devices, Ciampaglio hopes to have the bones ready for display by 2008.