Saturday, October 6th, 2007
Parkway pulls off big road victory
By Gary R. Rasberry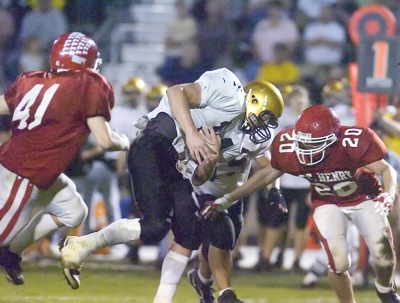 ST. HENRY - In a game that had plenty of playoff implications, Parkway and St. Henry engaged in a playoff-style battle in front of a playoff-tinged atmosphere.
The Panthers and Redskins countered each other through three quarters of play, with Parkway getting the last swing of momentum with less than six minutes left in the game to get a 28-21 win at the Wally Post Athletic Complex.
Parkway improves to 5-2 on the season and 4-2 in the Midwest Athletic Conference, beating the Redskins for the first time since October 18, 1985. More importantly, the win keeps Parkway's chances for the playoffs alive as the win should move the Panthers up the ladder in Division V Region 20 rankings. The Redskins fall to 3-4 overall and 2-4 in the MAC, clouding their chances in the same region for a postseason berth.
"I felt like I always do; Praise God! What a football game," said Parkway coach Ed Kuhn. "That was a heckuva football game. That was nice.
"I know it's been a long time (since Parkway last beat St. Henry). It's a big win for everybody. The kids, the community. I should say young men."
Neither team could hold the lead for long. Parkway scored first, only to have the Redskins tie it up near the end of the first quarter. When St. Henry took the lead in the second quarter, Parkway finished up the first half with a touchdown.
"They would make some good plays and we would make some good plays," said Kuhn. "It was just back and forth. A very competitive and exciting football game."
With both teams holding down the run, although Parkway won the ground battle 161-20, the quarterbacks began to air it out.
Panther QB Jordan Thompson started off slow, missing on his first four passes. Thompson finished 15-of-31 for 245 yards and two scores, going with 100 yards rushing and two scores on the ground. Favorite target Josh Fisher snagged eight passes for 153 yards and a touchdown.
Brad Stahl had plenty of power in the arm, but needed a target with favorite receiver Corey Puthoff not playing due to injury. Stepping in was running back Neil Schwieterman. With Brent Prenger in the backfield, Schwieterman moved outside and came up with a number of big catches, Schwieterman, himself fighting off pain, had seven catches for 197 yards and a touchdown. Stahl finished 13-of-23 for 288 yards.
"It seems like through the year, that our lineup has never been the same," said St. Henry coach Jeff Starkey. "We have battled through some injuries. We're not the only football team in that position. Young guys have to step up, and we have some young guys that stepped up and made some plays."
St. Henry got the lead back at 20-14 as Brad Stahl found big brother Tony Stahl for a 27-yard pass completion with 4:45 left in the quarter. New Zealander Robert Miller's PAT made it 21-14.
Parkway responded with a nine-play, 80-yard drive that saw Thompson hook up with Fisher for the final 17 yards to tie things up going into the fourth quarter.
On the ensuing Redskin possession, Brad Stahl made his only bad pass of the night. On second-and-19 from the 50 after a sack, Stahl looked into the middle. Instead of a teammate, he found Micahel Baldauf, who took it to the Panther 41 with 11:50 left in the game.
Thompson, running and passing the ball most of the way down the field, helped the Panthers eat nearly six minutes off the clock, getting Parkway down to the Redskin two. With St. Henry likely anticipating a run by Thompson, the quarterback quickly fired a short pass to an open Jeremy Heiser in the end zone with 5:52 left. Heiser nailed the PAT to put Parkway up 28-21.
St. Henry tried to answer quickly, but stalled out at the Panther 45 with Brad Stahl getting sacked on third-and-six by Ethan Hayes to put the Redskins back in their territory, forcing the punt.
Parkway was forced to go three-and-out on two running plays and an incomplete pass. Thompson's punt moved St. Henry back to its 33 with two minutes left.
After getting eight yards on a pass to Schwieterman, Stahl missed on his next two to force fourth down. Stahl converted with another eight-yarder to Schwieterman. Two more incompletions were followed by a shot to brother Tony for 12 yards to put it at the Panther 39. On the first play, the snap was fumbled as Stahl lost eight yards to put it at the Panther 47.
On second down, Thompson steamrolled into the St. Henry backfield and sacked Stahl for a seven-yard loss. After an incompletion made it fourth-and-25, Thompson ended the Redskins' night with another sack, a nine-yard loss. One kneel down later, Parkway began to celebrate.
Parkway travels south to face another strong team in Region 20 with 6-1 Anna while St. Henry travels east to Auglaize County to face winless Minster.
"The defense really stepped it up at the end and made plays," said Kuhn. "That's what it comes down to."
"Both teams, they played hard," said Starkey. "They made a few more plays than we did. It was a hard fought game. It was a battle. I'm proud of our effort. Parkway played a strong game, a physical game. Their kids made some plays."
Parkway travels south to face another strong team in Region 20 with 6-1 Anna while St. Henry travels east to Auglaize County to face winless Minster.