Wednesday, October 17th, 2007
Bulldogs, Roughriders rely on defense
Celina, St. Marys will have rematch on Saturday
By Gary R. Rasberry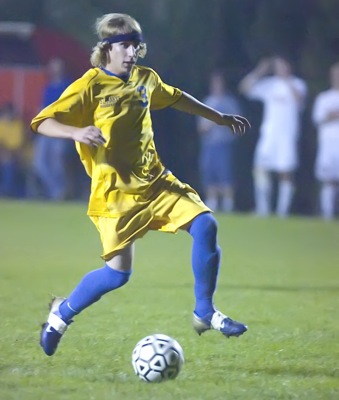 SHAWNEE TOWNSHIP - Two soccer matches. Two goals scored and two differing styles of action.
In the opening match of the Division II boy's soccer sectional, Celina got a goal early in the first half, then kicked the ball around for the remaining 57 minutes en route to a 1-0 win over Wapakoneta.
St. Marys and Elida, however, engaged in a defensive battle that needed more than the regulation 80 minutes.
Dex Yelton's breakaway goal 51/4 minutes into the first sudden victory overtime allowed the Roughriders to advance with a 1-0 over Elida.
That sets up a Grand Lake rematch between the Bulldogs and Roughriders on Saturday at 4 p.m. at Shawnee Soccer Stadium. In the first meeting of the season, St. Marys went to Celina and shut out the Bulldogs 2-0 in Western Buckeye League play. The first match on Saturday pits WBL foes Shawnee and Kenton at 2 p.m.
St. Marys 1, Elida 0 (OT)
The two teams engaged in a struggle that saw as many corner kicks (13) as shots on goal (14) as both teams worked to keep each other from scoring after St. Marys beat Elida 4-1 just five days earlier in regular season action.
Tuesday, Elida played solid defense in allowing just seven shots on goal in the match.
"He had a nice game plan," St. Marys coach Dave Ring said of Elida coach Tom Thomas. "We are a team that scores a lot of goals but struggles to finish all our opportunities. We had many more chances to score against Elida, but couldn't put them away."
The last part of the second half had St. Marys playing near the Elida goal. The Roughriders had six corner kicks in the second half and had four shots on goal in the half with Elida keeper Brandon Good making two saves.
"We finally played like we know we can," said Thomas. "The kids played their hearts out. That's all you can ask for."
After 80 scoreless minutes, the teams went into the first of two 15-minute "sudden victory" overtimes. With just under 10 minutes left, Yelton got a loose ball and worked his way into the Elida goal area, putting the ball to the left of Good with 9:44 left in the session to end the match.
"He went right a little bit, so I turned it left toward the goal," said Yelton.
"We've scored against every team we played. We're going to get one," said Ring.
Celina 1, Wapakoneta 0
The Bulldogs may have advanced to the sectional final, but that did not stop Celina coach Bruce Strine from expressing disappointment in his team's play on Tuesday.
"Not a pretty game at all," said Strine. "I'm very disappointed in both our halfs of play. We talked about it at halftime. Not at all happy. You don't outshoot a team 16-4 and walk off the field with a 1-0 lead.
"A win is a win, but we have to step it up if we're going to play anything on Saturday against one of these two teams (Elida or St. Marys)."
Bryce Schmidt, hampered by an injury all season, came up with the lone goal just after the halfway point of the first half. Taking a crossing pass from Aaron Schmitt, Schmidt booted the ball past the Wapak keeper at the 17:58 mark to make it 1-0.
"I was calling for the drop and kicked it left-footed," said Schmidt, whose goal was the first of the season. "Trying to get it on target."
"It was a nice cross and a nice touch in the upper," said Strine. "Nice left foot, on top of that. He came back from being injured all season. Good to see him get his goal."
After that, Celina got into a kick-ball match with Wapak. Celina had several shots on goal in the second half, but only a few were contested saves by the Wapak keeper.