Saturday, October 20th, 2007
Cavaliers ride defense past Fort Recovery
Harlamert scores three times for Cavaliers in 45-7 victory
By Gary R. Rasberry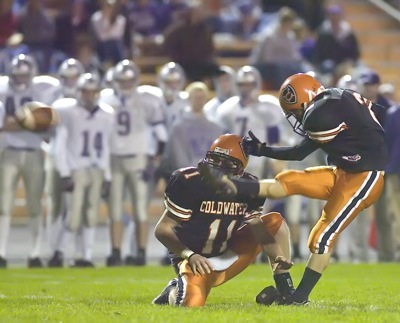 COLDWATER - Thanks to a strong defense that stymied the Fort Recovery offense, Coldwater improved to 8-1 on the season with a 45-7 win over the Indians at Cavalier Stadium on Friday night.
The Indians, looking for their sixth win on the season, goes into Week 10 at 5-4 overall and 4-4 in the Midwest Athletic Conference.
Coldwater coach John Reed was a little concerned with Fort Recovery's multi-faceted offensive attack and formations.
"We prepared for this as hard as any game we ever prepared for," said Reed. "We really felt that, offensively, they presented some real problems."
His concerns were put to rest for the most part on the Indians' second offensive series of the game when Tony Harlamert picked off Greg Kahlig and took the ball back to the Indians' four-yard line. Harlamert was rewarded for his defensive play by running in for the score on the first play from scrimmage to make it 7-0.
The score remained 7-0 for the rest of the quarter, but it only took seven seconds into the second quarter for the Cavaliers to pick up the attack. Cory Klenke completed a 31/2 minute drive with a seven-yard scoring pass to Ryan Geier with 11:53 to go.
Then with less than three minutes left in the game, Tyler Kunk snagged a six-yard scoring pass from Klenke to make it 21-0.
After an Indian punt, Harlamert wrapped up a five-play drive with his second touchdown of the night, a six-yard score with 1:22 left in the quarter.
Harlamert later got his third touchdown of the night on the first play from scrimmage in the third quarter, running 81 yards for the touchdown to make it 35-0. Harlamert finished his night with 124 yards rushing on 10 carries.
"Our kids really showed up on both sides of the ball," said Reed. "I was really impressed with the way we responded. They (Fort Recovery) have been successful throwing the ball. They certainly had some success here, but I thought we really adapted to what they were trying to do."
"Coldwater is a great team. You have to give them a bunch of credit," said Fort Recovery coach Brent Niekamp. "They do things right all the time. They're very consistent.
"Our inconsistency showed up through the course of the game. I felt like, early on, we were battling pretty hard and able to make some things go back and forth, but they (Coldwater) were able to do more things right more often than we did. That was the difference."
Indians quarterback Greg Kahlig finished with 124 yards on 14-of-28 passing with two interceptions. Matt Braun rushed for 60 yards and scored the lone Fort Recovery touchdown with 10:17 in the fourth quarter.
Coldwater will look pick up win number nine next Saturday against St. John's in Delphos while Fort Recovery returns home to finish regular season play against St. Henry.