Monday, October 22nd, 2007
Bulldogs eliminate Roughriders
By Gary R. Rasberry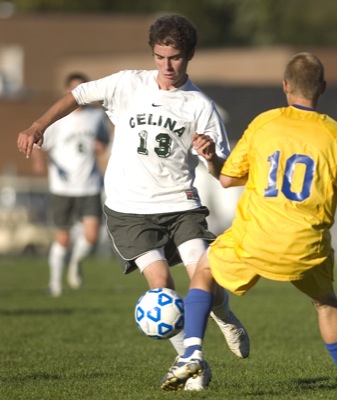 SHAWNEE TOWNSHIP - St. Marys may have knocked Celina out of Western Buckeye League contention during the regular season, but the Bulldogs got the last laugh by ending the Roughriders' postseason.
Two second-half scores held up as the Bulldogs advanced in the Division II boy's soccer sectional tournament with a 2-0 win over the Roughriders at Shawnee Soccer Stadium on Saturday.
Celina (12-4-2) now faces top-seeded Shawnee on Wednesday at 5 p.m. in the district semifinals. St. Marys, suffering a shutout for the first time of the season, ends the year at 10-4-4. Shawnee dispatched Kenton 2-0 in Saturday's first contest.
"We felt we're a better team (now) than when we played St. Marys (in September, a 2-0 loss at Celina). We probably played our worst game against them (the first time)," said Celina coach Bruce Strine. "It's unfortunate because it took us out of the WBL race, but it made us work harder.
"In the history of Celina soccer, we never won a second game at sectionals, because we've always had byes or whatever. It's a good win."
"We just came out and did not play well today," said St. Marys coach Dave Ring. "We didn't stick to our game plan at all. We didn't execute well, not taking anything away from Celina. We just didn't play well."
For the Bulldogs to avenge their earlier loss, they needed to play a whole lot better than they did on Tuesday against Wapakoneta in the Bulldogs' 1-0 win in the first round of sectional play.
For the first part of the game, Celina looked a lot better, but St. Marys looked solid with a defense that did not give the Bulldogs a lot of decent looks at the goal.
"Being a rivalry, with a long history, it wasn't hard to get the guys up," said Strine. "The passes were crisp and we beat them to the ball. ... We wanted the 50-50 balls to be won, which we did. We really controlled the game."
The best chance for Celina to score in the first half came with 90 seconds left when Micahel Sommer's shot on goal just missed to the right. The Bulldogs outshot the Roughriders 3-2 in the first half, with St. Marys keeper Dan Imwalle getting two saves.
It didn't take long for Celina to strike in the second half. Just a minute into the half, Andrew Menchhofer took a corner for Celina and teammate Alex Dammeyer saw the ball curving his way and went in for a header, putting it past Imwalle with 38:42 left to put Celina ahead 1-0.
"I decided to go up for the ball and the ball ended up going right to my head," said Dammeyer.
"Alex all year has been going up in the air. He's been getting just under the ball and going wide," said Strine. "He got over the ball real nice and put it in the corner. He's worked his tail off all year and it's nice to see him get a goal."
Celina was cranked up on defense even more, limiting the Roughriders to five second-half shots on goal. Bulldog keeper Jordan Bertke made saves on four as another went wide of the goal.
"For whatever reason, we wanted to play direct, which is not our style," said Ring. "It didn't work very well. I made multiple changes trying to get it to stop. Couldn't get it done. Don't know what else to say.
"We absolutely did not execute our game plan tonight, period. I can be no more clearer than that. We just did not execute our game plan and did not play up to our ability. Again, not to take anything away from Celina. Celina beat us, but we didn't do anything to help ourselves. It's disappointing."
While the Roughrider offense struggled, Celina looked for a shot that would give the Green and White some insurance. Senior Cody Stachler provided the insurance with 7:19 left in the match, getting a breakaway and putting the ball past Imwalle to make it 2-0.
"I thought it was one of our better games," said Strine. "It's our fourth shutout in a row. Defense just played great. I'm happy for the boys and the program. They worked hard."