Friday, October 26th, 2007
Cheryl Ann chili cookoff fun for all
Brews made of mushy maggots, witchy worms, bat brains, other ingredients raise money for programs
By Margie Wuebker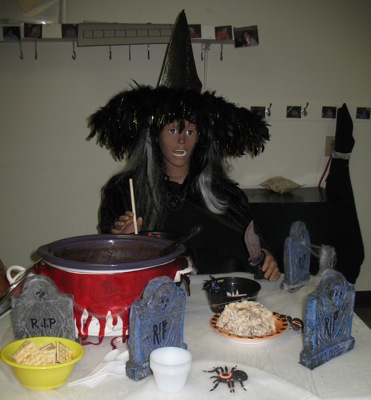 When staff and associates at Cheryl Ann Programs sponsor a chili cookoff, they mean business - serious business with a comical twist.
A welcoming witch (Diane Bonifas) complete with a smoke machine and bubbling cauldron welcomes visitors to try her special blend of mushy maggots, witchy worms, bat brains, eye of newt, slimy fish eyes, spooky spiders and fermented fingernails. Thankfully, they are only props and not actual ingredients.
The chili competition Thursday provided staff and associates with a welcome diversion, hearty lunch and cash prizes, which were all turned back over to the agency.
At the table of Beth Butler and cohorts from Cheryl Ann's habilitation department, the group says they have no intention of letting the staff of adult day services take first prize again this year.
"We figured fall and Halloween would be popular themes, but we wanted to be different. So all seven of us put our heads together and came up with 7-Time National Championship Chili," Butler says.
From floor to ceiling, the group leaves no doubt about their diehard allegiance to the Ohio State Buckeyes. Their eye-catching display features scarlet and gray memorabilia including parking signs, an admission ticket, buckeye necklaces, Brutus dolls, a pair of oversized Buckeye slippers, OSU cups, colorful jerseys and even a toilet plunger suggesting the team will flush away its Michigan foes.
"If our chili doesn't sway the judges, maybe the candy will," Butler says of a plate loaded with plump buckeye candies. "Remember this is a no-holes barred competition."
Elsewhere, Susie, a training mannequin used by nurses Ruth Hanna, June Dorsten and Missy Stelzer, never looked better in a fetching black witch hat as she stirs a candy-filled cauldron. A long-sleeved dress with a gem-studded broach effectively hides slits and holes designed for various medical procedures.
Darlene Snavely, a representative of CA Employment Services, struts around the room with a cowboy hat atop her head and an ornate buckle at her waist. She knows good chili when she smells it and confidently tells everyone Red Thunder Silver Rodeo Cowboy Hot Chili is "the best darn chili in these parts."
Snavely and her cohorts worked with client Greg Schmitmeyer in putting together a display featuring dark brown chaps, a pair of leather cowboy boots, decorative spurs and red handkerchiefs. Schmitmeyer even contributed a black and white stick horse to the effort.
"We brought the house down last year with Elvis (aka Jim Norris) and his Hunk, a Hunk of Burning Chili," Snavely says quickly scouring the competition with a discerning eye. "This year everybody got into presentation and it makes for a whole lot more fun."
Maintenance man Ron Diller thought long and hard before submitting an entry he calls "For the On-The-Go Man." Contents he pulled from a Wendy's sack and artfully arranged included a small order of chili in a covered container, several distinctive yellow napkins, a sturdy plastic spoon and not one but two packs of crackers. A trusty screwdriver serves as an appropriate prop.
Judges face difficult decisions when it came to rating nine entries on aroma, consistency, taste and presentation on a zero to 10 basis.
The afternoon ends with the results in: Adult day services and its witch with the high pitched laugh again sweep top honors much to the chagrin of other departments, while mannequin Susie and the nurses finish in second place and employment services saddles up as third-place winner.

Recipe:
Here is one of the more unusual chili recipes entered in Thursday's chili contest at Cheryl Ann Programs:

7 Time National Championship Chili

1 pound ground Michigan
1 Brutus-sized Bermuda onion, chopped
1 large James Laurinaitis pepper, chopped
2 cans Beanie Wells chili beans
1 large can "Kickin" tomato juice
1 can Jim Tressell's "home game" tomatoes
1 tablespoon Ross Homan's Hormel chili spice
Toss in 1/4 cup Todd Boeckman banana peppers.
Brown Michigan and drain. Combine remaining ingredients and cook on high for 17 minutes, reduce heat and simmer for an additional 51 minutes.
Eat on your own turf!!

This recipe was concocted by the Habilitation Services Department.