Tuesday, October 30th, 2007
Coldwater hospital goes to the dogs - and cat
Animal video created for Internet to win MRI unit
By Shelley Grieshop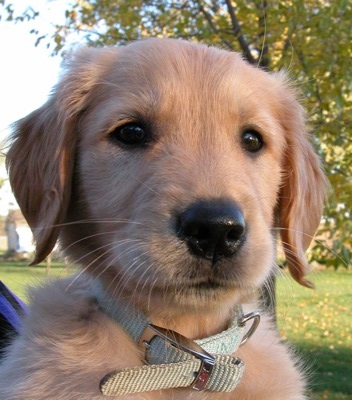 COLDWATER - It took a lot of peanut butter, four dogs and a cat to put Mercer Health in the running for a million dollar piece of medical equipment.
Administrators and staff recently tried their hand at movie producing then entered their video - starring their own pets - to win a magnetic resonance imaging (MRI) unit.
"I don't think the writers at Saturday Night Live have anything to worry about," Mercer Health CEO Jim Wermert joked, after showing the recently-made videotape to the board of governors last week.
Siemens Medical Solutions, the medical supply company sponsoring the contest, is giving away one state-of-the-art MRI to the hospital whose video gets the most votes online at
www.winanmri.com
by Dec. 31. Nearly 50 submitted videos appear on the Web site so far.
The rules state that each hospital must explain in their homemade video why they need the high-end medical equipment. Only U.S. hospitals with 180 or fewer beds and without permanent MRI units can qualify to enter the contest.
Mercer County Community Hospital in Coldwater, a division of Mercer Health, is a 72-bed hospital that currently offers patients access to a mobile MRI parked outside the hospital two or three times per week.
Staff members had to create the 90-second video in-house - no professional help allowed, according to contest regulations. Writing a script and directing a video with animals was biting off a little more than they could chew, they admitted.
The movie, titled "Mercer Health Needs a Dog Gone MRI," begins with the four-legged creatures sitting in office chairs around a desk discussing the hospital's needs (actually eating sticky peanut butter to appear as if they are talking). Later in the film, the inconvenience of the mobile MRI is highlighted as a patient is wheeled outside in the pouring rain.
The cast of characters in the video includes Millie, a golden retriever puppy; Jerry, an English Springer spaniel, Swag the cat; Lizzy, a golden Labrador; and Jackie, a Jack Russell terrier.
The movie was created in the hospital annex so the animals and their occasional barks wouldn't disturb patients, said Ken Obringer, marketing and communication director. For nearly an hour, hospital employees played Hollywood with their furry actors and actresses. There were no accidents to clean up; even 3-month-old Millie was on her best behavior.
Each four-legged creature received an individual screening before their big film debut.
"We kept them outside and brought them in one at a time," Obringer explained.
Filming them altogether just didn't work, he added, "they liked each other a little too much."
Despite the challenge of keeping the animals upright in slick office chairs, filming went well. However, the competition is dog-eat-dog. This morning, Mercer Health was leading all other Ohio hospitals with 2,337 votes but being brutally challenged by Sumter Regional Hospital in Georgia, which had accumulated more than 29,700 votes by mid-afternoon.
The thought of winning their own MRI, which can produce high quality images of the inside of the human body, is exciting.
"Needless to say we never thought we'd be in the video production business," Wermert said.
He admitted, however, the contest was a chance they just couldn't pass up.
The hospital is currently embarking on a $3.5 million renovation project to enhance the emergency/outpatient area of the hospital and have set aside an area for a future MRI unit. Purchasing one, however, is only in the discussion stage.
Mercer Health officials said they will be campaigning in the community during the next two months asking everyone with Internet access to go online and vote. Rules allow for one vote per computer per day.