Monday, November 5th, 2007
Area boys perform well in Columbus
By Bruce Monnin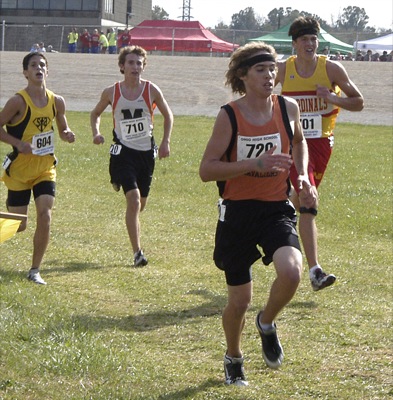 COLUMBUS - It was a great day for area boys at the 79th annual boys state cross country meet.
St. Henry competed as a team for the first time and finished eighth in the standings, while the Minster boys' ninth-place finish was also the Wildcats' best performance in the history of their program.
Add in New Bremen finishing 16th and Dusty Kuess finishing in 56th place in the individual standings, and 22 of the 149 runners (15 percent) competing at the Division III meet were from the Midwest Athletic Conference.
The St. Henry Redskins were excited to be making their school's first-ever appearance at the state meet. Often, such inexperience leads to slower times at Scioto Downs, but all seven Redskin runners posted times faster than they ran at last week's regional meet.
Doug Ranly led the way for the Redskins, earning All-Ohio honors with his 24th-place finish. Not only was Ranly 28 seconds faster than last week, but he did as well as he had done all year.
"That is about my personal best on the season," confirmed Ranly. "Being the first St. Henry team to make it here, I was really pumped up on adrenaline. It felt awesome to make it to state and be able to run here for the first time."
Coming in second for the Redskins was senior Dan Rex who also set a personal record.
"That was the first time I ever broke 17 minutes in my life," explained an excited Rex, who finished 49th. "It was good to get a PR in the last race of my senior season."
Dan was also excited by the performance of all his teammates.
"I think about all of them had their best times."
Indeed, Dillan Schulze (78th in state) improved from last week by 0:21, as did Mitchell Schulze (0:11, 94th), Adam Rindler (0:01, 121st), Brad Nieport (0:16, 127th) and Joe Speck (0:41, 142nd).
Minster's ninth-place finish was also higher than projected following last week's fourth place finish at regionals. The three seniors on the Wildcat squad not only ran well compared to last week, but also improved their times from when their team placed 12th at the state meet two years ago.
Kregg Olding posted one of his top five career best times in leading the Minster harriers with a 54th-place finish. His time of 16:58 was also 0:33 better than two years ago at the state meet.
"It was a great feeling coming back for my senior year," stated Olding. "I wish I could have made it here more often, but it didn't happen."
David McGowan was the second best Wildcat on the day taking 80th. He managed to improve by 0:23 over his regional performance, and by 0:58 over his sophomore performance at state. McGowan felt he and his teammates improved due to less stress during the race.
"We were the underdogs this week," explained McGowan. "There was a lot of pressure on us last week. We were trying to win regionals last week, but that fell through. So we came in here loose and ran like we always do."
The third Minster senior had a fantastic day. David Bornhorst ran 0:34 faster than last week, and 1:32 better than he did two years ago. Bornhorst, who finished 116th, sensed he had nothing to lose on the day.
"It was the last race of our high school career," said Bornhorst. "Let's have some fun."
New Bremen brought a young team to Columbus, and it showed in the Cardinals' performances. The Cardinal runners all did about the same or slightly slower than at regionals the previous week.
Jeff Kremer (52nd) led the Cardinals with a time of 16:58, and Kyle Knapke (98th) came in second for New Bremen at 17:32. Neither did as well as last week and both were disappointed, but Knapke spoke for both in looking ahead to next year.
"We're only losing one person for next year. We'll definitely be back, and a lot better," pointed out Knapke, with Kremer nodding in agreement. "It will be fun coming back."
Senior Adam Quellhorst (122nd) was the only Cardinal to have previously run at the state meet, and his time was 1:07 improved from three years ago. Quellhorst commented on returning to the state meet.
"It was exactly how I remembered it. It was really fast at the beginning, and really slow at the end. I was telling the team stories at the beginning of the year about how fun state was, and how great of an experience all the stands and everything were."
Quellhorst then started talking like a coach.
"I got sixth on the team. That means the top five were all underclassmen, so they should be back here next year. If you would have asked me at the beginning of the year if we were going to be here, I would have told you I hope we get to regionals. They've all proved me wrong, especially Robert Franks and Zac Speckman."