Thursday, November 1st, 2007
Local parental rights case sets precedent
By Shelley Grieshop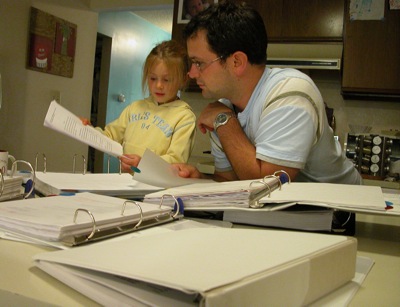 A local dad's fight and victory for equal parenting rights has resulted in a Supreme Court decision that will affect the rights of parents statewide.
The recent 5-2 ruling by the Ohio Supreme Court states that a judge must determine that a change of circumstances has occurred and the action is in the best interest of the child before a judge can change who is the child's residential parent or legal custodian.
In the last decades, five of the 12 district courts in Ohio have issued conflicting rulings on the subject - some requiring only the "best interest" portion of the Ohio Revised Code statute be met, while others followed an interpretation of the code that also required a change of circumstance be proven.
The ongoing conflict prompted the Supreme Court to hear the case of a local man to settle the issue once and for all.
The recent decision was based on a case that began in Mercer County Probate and Juvenile Court. Paul Fisher, 30, of Celina, claimed he was stripped of his shared parenting rights in 2005 following a judgment handed down by Judge Mary Pat Zitter. Zitter based her ruling solely on the best interest of the now 5-year-old daughter of Fisher and Emma Hasenjager of Celina. The couple were never married.
Fisher and Hasenjager shared equal parenting rights following Demetra's birth in October 2002. Then in January 2005, both parents filed for full custody of the child. Zitter designated Hasenjager as sole residential parent and legal custodian, leaving Fisher without rights to make major decisions in his daughter's life.
This ruling outraged Fisher because he felt Zitter's decision was based on her opinion of "best interest of the child" and there was no proof of a change of circumstance that would warrant stripping his parental rights. The recent Supreme Court ruling agrees, saying there must be proof that something has changed in order for a judge to change the status of a residential parent or legal custodian.
Fisher appealed Zitter's ruling to the Third District Court of Appeals, which upheld the local court's decision. However, that court stated that its interpretation of the applicable statutes was in conflict with rulings in other appellate districts.
Despite struggling emotionally and financially, Fisher opted to take the case to the Supreme Court.
"This has been a very long and hard road and it is still not over," Fisher said. "Every time I think about giving up, my daughter Demetra seems to sense it and gives me a hug, then I'm back in the fight full force."
Fisher is ecstatic about the Supreme Court action, which can be read on their Web site at www.sconet.state.oh.us. He couldn't be more pleased about the reaction it is having statewide. A friend from the Cleveland area called him this week to say he recently was awarded residential shared parenting and the status is protected by the precedent set in Fisher vs. Hasenjager.
But Fisher's own battle isn't over yet. His case now must be re-addressed by Zitter in the local court, he said.
"The case has been remanded, meaning it needs to be done over," Fisher explained.
He's not sure yet how or when the case will be addressed in the local court but he's ready to move on, he said.
"This is but one victory in a long battle ahead to establish shared parenting as the standard for children who have two fit parents. Kids deserve a mom and dad, it really is that simple," Fisher said.
Disclaimer: Paul Fisher does occasional computer consulting work for The Daily Standard.