Friday, November 2nd, 2007
Celina volleyball unable to advance past TCC
By Ryan Hines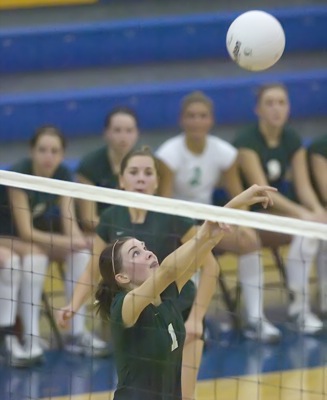 MANSFIELD - For the second consecutive year, the tournament trail took the Celina volleyball team to the Division II Ontario Regional.
And, for the second straight year, the Bulldogs made their exit from the postseason in the regional semifinals.
Toledo Central Catholic was big and strong and it showed on the floor as the Lady Irish polished off Celina, 25-19, 25-18 and 25-8 to advance to Saturday's regional final. The Lady Irish (24-2) will meet Madison Comprehensive (21-6) at 2 p.m. Celina ends its season at 19-7.
"It was a successful season for us, and nothing for the girls to be ashamed of, but at the same time, they are all disappointed and so am I that our season is over," said Celina head coach Carolyn Dammeyer. "It's just tough for it all to be over and the girls would love to keep playing but TCC is a very good team and deserving of moving on."
TCC is enjoying its first year as a Division II representative after qualifying to drop down from Division I by one girl.
"This is a dream team for me to coach and I'm blessed to be in the situation that I'm in to coach this group," said Toledo Central Catholic head coach Melissa Beleher. "It's a goal of our team to get to state and now we're just one win away from getting to that point. Hopefully we can take that final step on Saturday."
It was a tight first game between Celina and TCC, but as the night went on, the Lady Irish began to take control.
In game one, TCC took a commanding seven-point lead at 10-3 and Celina was left playing catchup the rest of the way. A Celina comeback pulled the Bulldogs to within one point at 17-16 forcing a TCC timeout, but TCC took the momentum right back.
After a Celina timeout stopped the action with TCC on top 21-18, the Lady Irish ripped off a pair of aces and Kirsti Helldobler made two blocks for all the points they needed to close out game one.
In game two, Celina had its only lead of the match, but it didn't last long until TCC began to pull away again.
A pair of TCC hitting errors gave Celina a 2-0 advantage, but the Lady Irish then scored four straight points to regain the lead at 4-2. Celina hung tough behind the play of Liz Homan as the Bulldogs' senior middle-hitter made one of her team-high 11 kills to tie the match at 6-6.
TCC, with Kelsey Gerken on the serve, won eight straight points to take a 14-6 lead. The Lady Irish built their lead to as much as nine points at 17-8 after winning 11 of the last 13 points once the match was tied at 6-6.
"That was an important stretch right there," said TCC senior Amanda Arnold, who's headed to play volleyball at Southern Illinois next year. "I think that they (Celina) played pretty well in the first game, but then we started to get in rhythm and we started playing really. I think that's when we took control of the match."
Celina pulled to within five points at 20-15 after a nice service run of four points by Julie Klosterman, but two more TCC aces prevented the Bulldogs from getting any closer before dropping the second game by seven points.
"We played with them in the first game and most of the way into the second game, but we had a couple of lapses in serve receive and they took advantage of it," said Dammeyer.
Seemingly knowing the end was near, Celina looked lethargic in the third game and TCC rolled right through the Bulldogs by a 25-8 score.
Already leading by eight points at 14-6, TCC then reeled off 10 straight points leaving the final outcome no longer in doubt.
"I think that we wore them down in the end," said Beleher. "Once we got the momentum on our side, we just decided to run with it."
The Lady Irish are certainly worthy of their spot in the Elite Eight of the D-II ranks featuring three Division I talents that paved the way for the TCC win. In addition to Arnold being a Southern Illinois signee, TCC's Ashley Frazier and Amanda Gray are headed to Alabama and Youngstown State, respectively.
"We were trying to run our offense from pin to pin and I think that our setter (Gerken) did a good job of distributing the offensive touches and the girls that were hitting, took care of business when it was their turn," said Beleher.
Homan got an up-close view of the TCC hitters and was impressed.
"They have a lot of good hitters and they all can put the ball away at any given time," said Homan. "They are a good team."
"Their hitters were actually hitting the ball over our block and Liz is a good jumper, so that is pretty impressive," said Dammeyer. "They are a talented team."