Friday, November 23rd, 2007
She has the recipe for serving large parties
By Margie Wuebker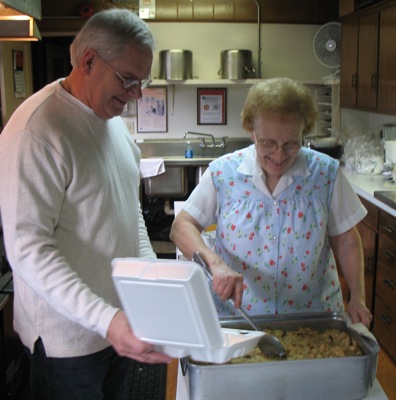 MARIA STEIN - Mary Louise Dahlinghaus feels right at home in the kitchen, and it doesn't matter whether she is cooking for 50 or 750.
Dahlinghaus has been preparing tasty meals for weddings, anniversaries, birthdays, holiday parties, sports banquets and annual meetings since 1951. And at the age of 76, she has no plans to hang up her apron.
"I was the oldest of 12 children and learned to bake bread at the age of 11," she says. "I have nine children, 20 grandchildren and three great-grandchildren. To tell you the truth, I wouldn't know how to cook for just one or two."
Dahlinghaus - the former Mary Louise Pleiman - previously worked as kitchen manager at the Carousel Ballroom, south of Celina. She had no trouble finding cooking jobs after handing in her resignation.
The first engagement involved cooking a 50th wedding anniversary dinner with all the trimmings for her husband's uncle and aunt, Frank and Clementine Dahlinghaus.
"I was so nervous," she confesses with a smile. "My reputation would be shot if I messed up, not only with relatives but all the other invited guests."
That same un-certainty plagued the first years of her cooking career. Practice paved the way for self-assurance and a formula for determining how much food to prepare.
"I figure two pieces of chicken for each person attending a wedding," she says. "Little kids won't eat that much and neither will most women so there is plenty to go round. At least 99 percent of the families want leftovers from the wedding meal - at least meat, dressing and noodles. Leftovers come in handy the day after when nobody feels like cooking or when the bride and groom open their gifts."
A different formula comes into play for sports banquets and hungry football players who grab multiple pieces of chicken and plop mounds of mashed potatoes and gravy on their plates. She figures three pieces per person and increases the amount of everything from buttered noodles to whole kernel corn.
Menus seldom vary in this area with guests expecting to find two kinds of meat not to mention potatoes, gravy, dressing, noodles, corn, coleslaw and butter bread. Fried chicken remains the leading choice with roast beef, barbecued pork and sausage - with or without sauerkraut - bidding for second billing.
"There are a lot of hog farmers around here," Dahlinghaus says. "There is bound to be pork on the menu when one of their children gets married."
Planning begins six weeks before the event with the bride-to-be and her mother visiting the Dahlinghaus home on Fort Recovery-Minster Road to discuss menus and numbers. She compiles the shopping list and places the order freeing the mother of the bride to deal with other wedding details.
Cooking regularly at 12 halls throughout the area, she knows exactly what to bring since some are stocked better than others. She always reaches for one bag containing a food processor, assorted kitchen knives and trusty slaw cutters.
Meal preparations begin the day before with the toasting of bread for dressing and inspecting each piece of chicken for pin feathers and extra fat. Bony pieces are cooked to provide meat and broth for dressing and noodles.
Dahlinghaus and two or three helpers arrive at the reception hall around 10 a.m. the day of the wedding. Frying chicken is the most time-consuming task taking 2 to 3 hours. The delicately browned pieces are transferred one by one to large electric roasters.
"People always ask 'How can you get everything done in time for 5:30 supper'?" she says. "It's all a matter of timing you acquire through years of experience. You don't want 'mooshy' noodles or overly dry corn."
"I've been blessed with good health, good feet and good legs," she says. "I could work 12 hours and still go out dancing. I enjoy people and serving them good food."
The energetic woman with a ready smile remembers peeling mounds of potatoes the day before she and Norbert Dahlinghaus exchanged wedding vows. Today, she uses instant potatoes eliminating hours of valuable time.
Dahlinghaus has a crew of 12 workers translating into several teams to handle multiple events. The women handled two wedding receptions with 650 and 780 guests respectively as well as a large banquet. The following day brought a golden wedding anniversary and another banquet.
Cooking for Ohio Gov. Ted Strickland during his recent trip to Mercer County proved to be one of her more memorable engagements. She still marvels at the security, recalling how one man guarded the exterior of the building while another checked out all the nooks and crannies inside.
"They didn't taste the food before the governor ate," she says matter of factly. "I guess I have an honest face."