Thursday, November 8th, 2007
Daycare center Web cam keeps an eye on the kids
By Shelley Grieshop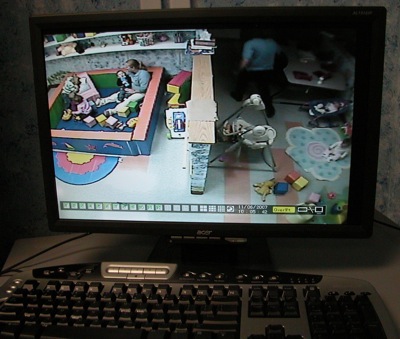 Last week Bruce and Paulette Stein watched their grandchildren parade around in colorful costumes during a Halloween party in Celina. Then they relaxed in the Florida sun and enjoyed another day of vacation.
How did they do this all in a day?
The Steins of Celina have been checking on their grandchildren while on vacation 1,200 miles away by going online, thanks to the Blossom Cam at Little Flower Learning Center in Celina.
Daycare centers across the country are installing Web cameras for a variety of reasons. Most say they do it to help ease parents' minds while at work.
By logging in with a username and a secret password on the Little Flower Learning Center Web site, parents, grandparents or whomever is authorized can view selected areas of the childcare center. The cameras do not have access to restrooms or diaper changing areas.
Bruce Stein, during a phone call from Florida, told The Daily Standard he and his wife are tickled pink that just a few clicks of the mouse can "bring them home" and help them get over their grandparent blues.
"We could see them going down the slide as they played in the rec room," he said about his three grandchildren.
Aimee Fleurette, owner of the daycare center, said the camera system was recently installed at the facility at 603 Touvelle St. It's great for security purposes - she can monitor several areas of the center while working in her office.
But the technology is especially nice for parents who want to be a part of their child's day even while they're at work, she said.
"If they're allowed, parents can log in on their breaks and lunches to see how things are going here," Fleurette said. "It's a great way for parents to share in their child's birthday party or other special days here."
Fleurette said first-time mothers seem especially relieved to know they're only a click away from seeing their babies anytime of the day.
The Web cam also is ideal for grandparents who live far away and moms and dads serving overseas. Mark Kimmel of Willshire, a member of the Air National Guard, was issued a password so he could check in on his 7-month-old son, Evan, while stationed in Iraq.
"We tried to send Mark pictures by e-mail, but to see Evan in action - that's awesome," his wife, Michelle, said.
Little Evan learned to crawl during his daddy's recent deployment. Michelle Kimmel said a Web cam is a great way to keep parents in the military abreast of their children's milestones. She believes it helps servicemen like her husband, who just returned home Tuesday, feel less like strangers when they come back.
"As soon as I heard about it (the Web cam) I thought, 'What a nice thing to have,' " she said. "And even for me, when I miss Evan, all I have to do is go on my computer and there he is. It just makes you feel better when you can see them."