Thursday, November 8th, 2007
Big hitters pave way for Blue and Gold
By Gary R. Rasberry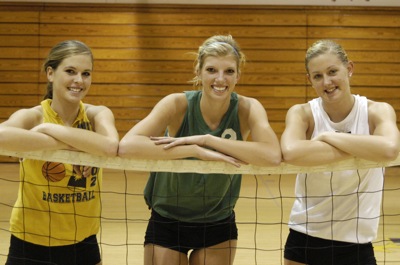 MARIA STEIN - The New York Yankees of the 1920s had their Murderers' Row featuring Babe Ruth and Lou Gehrig. The Detroit Red Wings of the 1940s and '50s had their Production Line with Gordie Howe, Sid Abel and Ted Lindsay and of course Notre Dame had its Four Horsemen.
Marion Local has its own Production Line of hitters that has helped the Flyers advance to the Division IV state semifinals for the first time since 2002.
Seniors Abby Niekamp, Megan Barhorst and Kristin Bergman have provided most of the blistering spikes that have helped the Flyers go 26-1 this season.
The Flyers, having already won their first Midwest Athletic Conference title in over 20 years, have dominated in going 26-1 so far this season with a battle against Newark Catholic on the slate for Friday night at the Nutter Center.
"It's amazing. Megan always says it's a dream come true," said Niekamp, a first-team All-Ohio selection who led the Flyers with 3.61 kills per game in the regular season. "Our team has worked hard this season. We have great team chemistry. We're really excited."
The trio are influenced this season by what happened at the end of the 2005 season, losing to eventual state champion Lehman in the regionals at Vandalia-Butler. All three played key roles on that 2005 team.
"I've been to regionals quite a few times, but it seemed like we could never get out of it," said Bergman, a second-team All-Ohio honoree. "Just that we got out of it this year is an accomplishment in itself. It's really exciting because it's like we're taking a whole new step."
"It's just heartbreaking. We were so close and you don't get there," said Barhorst, a first-team All-Ohio pick and the co-leader in blocks at 1.16 per game. We've been to the regional finals so many times and to get over that hump, it feels amazing."
The heartbreak extended a year as the Flyers did not get out of the sectional/district tournament last season.
"It was rough. You want to get back so bad," said Barhorst. "You get a chance a year after and you don't do it. It keeps bothering you until you finally get to do it this year."
This year, the Flyers focused on the opponent at-hand throughout the season.
"We took the whole season game-by-game," said Niekamp. "We knew we had all these goals in the back of our head, but we didn't talk about them. We took it game-by-game. We talked about what we needed to do. We didn't get big heads about anything."
The Flyers breezed through the regular season with just one loss (Celina), beating a pair of Division III top-ranked teams in defending D-III state champs Anna and Versailles. Marion then worked its way through the tournament, which led up to big wins at the Elida Regional last week.
Now the Flyers head to the Nutter Center, which brings its own excitement.
"Obviously, the atmosphere is going to be amazing," said Bergman. "All the excitement, the huge arena. Never played in anything like that. Everyone's going to be excited: the fans, the students and everything. That's probably going to be the best part."
While the season is concluding this weekend, Barhorst doesn't want things to end prematurely.
"It feels like the season has blown by," said Barhorst. "These next two matches, I don't want them to be over. It has been such a long wait and it's finally here. It's going to be weird when it's over."