Friday, November 9th, 2007
Returning troops often face emotional battles at home
By Shelley Grieshop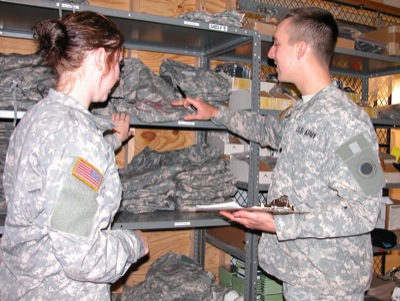 Heartbreak tops the list of problems blamed on a record high suicide rate for military men and women returning home from Iraq and Afghanistan.
Relationships often go sour when couples are separated by long tours of duties overseas, experts say. Sgt. Justin Parsons, of Alpha Company, 37th Brigade Special Troops Battalion of St. Marys, says his unit was hit hard emotionally during their last tour of duty in Iraq.
"More than 70 percent of our guys came back to find their girlfriends had left them," says Parsons of New Weston.
The experiences that today's veterans are exposed to while away at war and the issues they encounter as they return to American soil, have led to the highest suicide rates ever recorded for war veterans, statistics say.
A report from the U.S. Veterans Affairs Department reveals there were at least 283 suicides among veterans who left the military between the start of the war in Afghanistan in October 2001 and December 2005. A total of 147 troops killed themselves while serving in Afghanistan and Iraq, the government says.
Besides domestic problems, veterans also deal with financial and legal troubles, as well as substance abuse. Just fitting in can be stressful for some.
"The hardest thing is just trying to reintegrate with people you're not used to being around," says Parsons, who served with the Ohio National Guard in Iraq in 2005 and is preparing for deployment again in January.
Parsons, 23, says he was single and had few problems adjusting when he came back in December 2005. He is now engaged to the girlfriend who waited for his return. They will be wed next week - a date that was moved up from March because of his upcoming deployment.
Parsons says he got through minor difficulties by talking it out with people he trusted.
"I had a lot of help from the guys I was over there with. If I had problems or was in a bad mood, we talked on the phone or got together," Parsons says. "I got a lot of support from my girlfriend, too."
Dan Roche, the director of the Spiritual Center in Maria Stein, says acts of war are tough to "put away" like the baggage you return with.
"They do what they have to do when they're over there. Then when they're home and doing those normal, everyday things, it hits them. They ask themselves, 'What the hell have I done?' '' Roche says.
Roche is organizing a retreat at the center from Nov. 30-Dec. 2, to help local veterans address emotional and spiritual wounds. There will be confidential sharing times and an opportunity for one-on-one sessions during the non-preaching event. The retreat is free to participants due to a grant from the Sisters and Fathers of the Precious Blood.
A follow-up program, "Combat Veterans Couples Retreat" will be held April 19 and 20 at the center.
First Lt. Matt Molinski, commander at the St. Marys engineering company, says the Army currently uses a program called Battle Mind to help soldiers and their families recognize changes in personality, for example, and how to deal with them.
"A subcomponent of that program is a test that helps identifies post traumatic brain injuries," Molinski says.
Soldiers are given a 10- to 15-minute test on a computer - prior to deployment and after - which measures reasoning and speed skills. The two results are analyzed for changes that might need addressed, he explains.
Molinski also believes that sharing concerns with other military personnel is a key to good mental health.
"No one relates to your stories like the people who were there with you," he says.
Tom Risch of the Mercer County Veterans Administration believes the good news is that today's vets are seeking help more often than those who served in previous wars.
"Even twenty years ago, it was expected they would just deal with it. The World War II generation, because of the Depression, were taught to cope with their problems and not make them public," Risch explains.
But older veterans who subsequently became parents of Vietnam veterans, realized their sons and daughters needed help, he says. Slowly the so-called shame of admitting problems has begun to fade and more agencies are available to help, he adds.
"Through our experience we know there's no cure for this but there are coping skills that can be learned," Risch says. "It's very important they (veterans) realize they're not the only ones and they don't have to deal with this alone."

Veterans retreat in Maria Stein:
What: A retreat for war veterans
When: 6:30 p.m. Nov. 30 to 1 p.m. Dec. 2 (arrival time is 5:30)
Where: Spiritual Center of Maria Stein, 2365 St. Johns Road
Cost: Free. Registration can be made at spiritualcenterms@bright.net or by calling 419-925-7625.
The retreat is designed to help veterans - particularly those who have served in Afghanistan and Iraq - heal from the trauma of combat. A highly-qualified team of presenters including military chaplains and post traumatic stress disorder counselors, will be on hand. The event is open to all faiths and is not religion-based.