Saturday, December 1st, 2007
Where are Wii?
Hot video game, other hard-to find gifts frustrate holiday shoppers
By Shelley Grieshop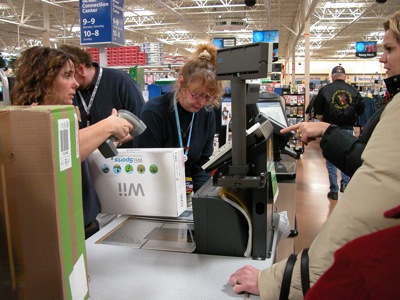 Heads bobbed up and down and people stood on tip-toe as they tried to get a glimpse of the white boxes being wheeled into the electronics department at the Wal-Mart Supercenter in Celina on Wednesday.
"There's either 24 or 25," proclaimed customer Tanya Smart, fairly certain her dash from work to grab one of the sought-after Wii game systems would end in success.
More than three dozen people stood anxiously in line near the small check-out area, watching closely as the pile of Nintendo Wiis dwindled with each purchase.
Priced at $249 per console, the Wii is a unique form of computer gamee that gets players on their feet to compete in virtual games such as bowling, fishing and boxing. It currently is the best-selling video game console in the U.S.
"Millions of people who never before picked up a controller or who had sworn off gaming years ago are trying the Wii and becoming fans," spokeswoman Marcie Mitchell of Nintendo of America told The Daily Standard.
But the Wii popularity has made it an endangered item around the world since its debut last holiday season. Chris Carroll, store manager of the Wal-Mart Supercenter along Havemann Road, said the Wii craze is making his life difficult.
"Yes, it creates a lot of problems," he said, adding he's heard from a lot of unhappy people lately. "People don't understand that we get them when we get them, whenever the manufacturer sends them to us. We never know when or how many."
Nintendo bases the number of Wii issued to each store on the number of games and accessories sold there, Carroll explained.
UPS, which delivers the game consoles from manufacturers to retailers, also is feeling the Wii heat. Some UPS drivers say their familiar, brown delivery trucks are being followed by gamers looking for stores receiving Wii.
The Kmart in St. Marys has the same problem of not knowing when the game will be in the store or how many might be shipped. A spokesman said the best way to assure getting the game is to order the toy online at kmart.com.
Bids for new Wii consoles also are being placed online at eBay but the price typically exceeds $400 during the last 10 minutes of the auction.
Carroll believes Nintendo and other companies intentionally make some products scarce to keep prices high and to build that "got-to-have it" frenzy, which occurs nearly every Christmas. Many people recall the hunt for Tickle Me Elmo nearly a decade ago.
Mitchell said it's not Nintendo's strategy to drive customers nuts. She said it's been difficult keeping up with production for the complex electronic devices, which come from different suppliers around the world.
"There is no benefit to Nintendo in not having enough product on the shelves to allow everyone who wants one to be able to buy one," she said.
In the last year, the Wii has put Nintendo at the top of the gaming industry, which previously was controlled by Sony and its PlayStation 3 and Microsoft and its XBox 360. Mitchell said Nintendo recently sold 350,000 Wii consoles in one week.
One lucky woman who managed to get the second-to-last Wii at Wal-Mart this week, offered a farewell wave to those left empty-handed.
"Happy holidays," she said to the hopefuls still waiting in line, who appeared to have lost their Christmas spirit somewhere near the big screen TVs.