Monday, December 3rd, 2007
Schlarman's blocked PAT kick earns the Cavaliers state title
By Gary R. Rasberry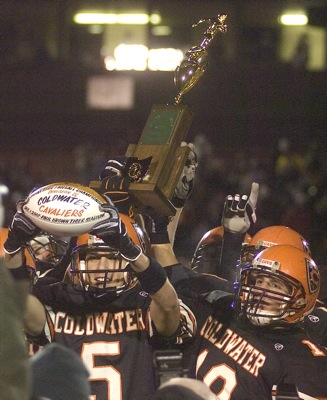 MASSILLON - In trying to sum up the outcome of the Division IV state football game. Just one word comes to mind.
Wow!
Coldwater, trailing Youngstown Mooney by 14 points going into the fourth quarter, came back to take the lead late in the final quarter, then held off a late charge as Mooney scored with 21 seconds left to cut it to one.
Kurt Schlarman's block of Ed Reese's PAT try, followed by Adam Homan's recovery of an on-side kick, gave Coldwater a 28-27 win over Mooney, the top team in Division IV and ranked seventh nationally by USA Today.
Coldwater ends its year with its second Division IV state title in three years at 14-1. Mooney sees a 29-game win streak snapped - Coldwater was the last team to beat the Cardinals in 2005 - and finishes at 14-1.
While comebacks are nothing new for the Cavaliers, having beat Kettering Alter 59-52 in triple overtime after trailing by 21 points twice in week 12, the comeback against Mooney took it to the level of amazing.
"I said all along that the key to us getting better was on Monday, Tuesday, Wednesday and Thursday. That's when we kept getting better," said Coldwater coach John Reed. "It wasn't until we played Kettering Alter that we found out that we've become an outstanding football team. We really hadn't been tested until that time. That really helped us today after being able to come back from being behind three touchdowns (to Alter)."
Things looked tough for Coldwater fans as the Cardinals jumped out 14-0 in the first half. Not only was Mooney moving the ball with its patented running game - All-Ohioan and Penn State recruit Brandon Beachum had 191 yards rushing in the game - but quarterback Tim Marlowe - the backup to the injured Dan McCarthy - threw for a first-half score.
But Coldwater didn't panic.
"Everybody wants to say we made a real big speech. We never do that," said Reed. "These guys aren't into that sort of thing. They're a lot more mature than that."
Coldwater got on the board in the third quarter with Cory Klenke running in from 16 yards out, but Mooney countered with Marlowe running in a touchdown with 3:26 left in the third quarter to make it 21-7.
The Cavaliers were looking for a way to get a break, and found it with some specialty plays.
The first came early in the fourth quarter. Klenke handed the ball to Tony Harlamert, who then handed off to Keith Wenning, the backup quarterback filling in for injured receiver Zach Kaup. Wenning stopped and fired a perfect pass to Ryan Geier, who veered away from the Mooney defense to score with 9:57 left to cut the Cavaliers deficit to seven points at 21-14.
Seven minutes later Coldwater struck again. Klenke threw a back lateral to Wenning, who fired downfield again. Harlamert came up with the catch and was stopped at the one. Harlamert then finished what he started and ran in the final yard on the next play, tying the game at 21-all with 4:58 left.
"It's obviously something you have to deal with. It's obviously impossible unless you actually see them to rehearse a possible scenario," said Mooney coach P.J. Fecko. "They came up with a couple of big plays there."
The turn in momentum began to show on Mooney's next possession as Mark Steinbrunner sacked Marlowe for a loss. On the next play, Marlowe could not handle the snap as the ball was booted away and Steinbrunner came up with the ball on the fumble and put Coldwater in solid field position.
On a third-and-one from the Mooney 23, Klenke went to a play-action pass firing to Geier, who out-leaped Marlowe - an All-Ohio defensive back - in the end zone for a TD to put Coldwater up for the first time on the night with 2:41 left in the game after Mario de la Rosa's PAT.
"I don't want to say it was simple, but it's my job to make big plays," said Geier, who finished with four catches for 134 yards, "I was the only receiver going out on the play and I told Cory 'If you throw it, I'll catch it.' "
Mooney still had time to even the game and went to work on the Cavaliers. Beachum had back-to-back runs of 21 and 14 and then Marlowe added a 16-yard run to get Mooney to the Coldwater 17-yard line. Marlowe found Mike Gemma open in the end zone for their second touchdown pass play of the game with 21 seconds left to make it 28-27.
Ed Reese, whose first three PATs were shaky but all good, came out to try again in an effort to tie the game. The snap was good and the ball went up, but Schlarman batted the ball down to keep Coldwater ahead by one point.
"The other three touchdowns when they kicked the extra point, I went inside the guard and tried to beat them that way, so I thought I would try something different," said the senior defensive lineman. "I went outside and was able to get through and just stuck my hand out hoping to hit something."
Fecko said there was no thought about going for two.
"You read history backwards, you'd go for two," said Fecko. "We had a situation where I think he may have missed just two all year. His numbers were in the high 50s (made PAT kicks). It didn't come down to him missing it. They got a push inside and we didn't do a great job inside of holding those guys out. That was a big factor."
Reed said that he would have done what Fecko had done.
"That certainly was in our thoughts (Mooney going for two), but I know if we had to make that decision, we would have done the same thing," said Reed. "When you play that hard for that long, I wouldn't want to put it on a two-point play. The average success (of a two-point play) is 37 percent. That's not very high. I don't want to take that chance."
Needing a miracle to keep their chances up, Mooney went for the on-side kick, but Adam Homan grabbed the squib and went down to the ground. One kneeldown later and Cavalier fans were celebrating.
Klenke, off to a rough start in the game with the pressure put on by the Cardinals, finished the night 16-of-37 for 185 yards.
"Cory started getting a little frustrated. We just told him to keep on believing and we're going to give them more time," said senior center Kyle Ahrens. "I told the line to give him a second longer. Every pass play, another second longer. When we started doing that, Cory settled down and made plays."
Harlamert, held to just 19 yards rushing, made eight catches for 126 yards.
Marlowe finished the night with 92 yards rushing and 135 yards through the air on 5-of-6 passing. Gemma had three catches for 62 yards and two scores. Michael Zordich, who'll head to Penn State, had two catches for 73 yards and scored a rushing touchdown.
"Obviously, Coldwater is to be congratulated for pulling it out there," said Fecko. "I couldn't be more proud and wouldn't want to be associated with anyone other than this team and what they've done this year."
"We have the utmost respect for Cardinal Mooney, we really do," said Reed. "We respect everyone we play. We talked about that all the time. We talk about 'Fear nobody, respect everybody.' That's sincere coming from us."