Saturday, December 8th, 2007
Wildcats get win over Panthers
By Gary R. Rasberry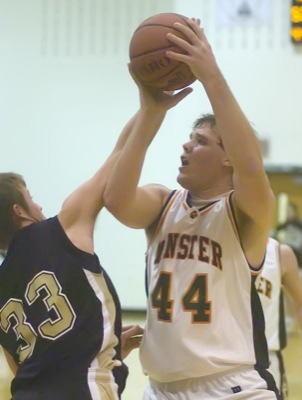 MINSTER - It's never dull when MAC teams go against each other.
Both Parkway and Minster shot well in the first half, but Mike Lee wasn't happy with the quick pace of the game.
Slowing it down a bit helped the Wildcats slow down the Panthers' triple threat of scorers. Clutch free throws at the end of the game allowed the Wildcats to open up Midwest Athletic Conference play with a 58-54 win at Wildcat Gymnasium.
Minster stays perfect at 3-0 (1-0 MAC) on the season while Parkway drops it second straight game to go to 2-2 overall and 0-1 in the MAC.
Both teams went to its strengths through the first half. Parkway's Josh Fisher had a strong first half, scoring 13 points with senior teammate Derik Snyder adding eight points.
Minster countered with big three-pointers from Joby Stechschulte, Andrew Baumer and Logan Sommer.
The Panthers held a 34-29 halftime lead with the flurry of points, which Lee was concerned with.
"I didn't like the pace," said the veteran Minster coach. "When we came in at halftime, I was a little perturbed with the tempo, which I thought was more to their favor. Even though they had a run midway through the second to get the lead, I told the kids there was a 40-second swing where we turned the ball over a couple of times and got into some bad situations.
"If we can come back out and survive situations like that and keep hammering the glass, I thought we would be okay," added Lee.
Minster worked the pressure well, forcing 10 second half Parkway turnovers - the Panthers had just three in the first half - and slowing down Fisher, Snyder and Jordan Thompson.
"We knew they were going to do that," said Panthers coach Doug Hughes.
The Wildcats trailed by three at 46-43 at the end of three quarters, but Minster came out quickly to tie the game with Sommer hitting a bucket, then coming back to nail a foul shot with 7:19 to go.
Minster led as much as 50-46 before Parkway took advantage of a rare cold spell at the foul line for Minster. The Wildcats, usually one of the better free-throw shooting teams in the Grand Lake area, missed three straight front ends of one-and-bonuses, allowing the Panthers to rally. Thompson got back-to-back buckets to cut the Panthers' deficit to two, then Fisher scored with 1:40 left to tie the game at 52-all.
Unfortunately, that would be the last Panther bucket for the next 98 seconds as Minster came up with several defensive stops. Parkway sent Minster to the foul line, where the cold spell was snapped by a pair of Stechschulte free throws with 51.8 seconds left to make it 54-52. After a Wildcat timeout, Parkway lost the ball again on an offensive foul call. Stechschulte, shooting two free throws with 17.4 seconds left, missed both shots. Zach Bates made the rebound to give Parkway another chance to tie.
After a timeout, Parkway tried to inbound the ball, but the ball went out, although the Parkway bench claimed it hit a Minster player. Stechschulte was fouled again, but this time the junior nailed both free throws to make it a four-point game. Parkway, which had called its last timeout with six seconds left, got a bucket from Fisher and called timeout, resulting in a technical while trailing by just two. Baumer sank the Panthers' chances by sinking both technical free throws with 1.6 seconds left. The Wildcats finished the night hitting 10-of-19 from the stripe.
"They made some plays down the stretch," said Hughes. "I don't think we executed very well in our halfcourt."
Sommer finished with 24 points on 10-of-17 shooting from the floor. Stechschulte added 14 points and Baumer finished with 13.
Fisher was held to just nine points in the second half to finish with 22 points while Snyder scored just four points in the second half to score 12 in the game. Thompson finished with 10 points and 11 rebounds.
Lee had a lot of praise for the Panther trio.
"You're not going to find three players that have the offensive talent night in and night out," said Lee. "... They're experienced, very athletic and we found out they can score in a hurry."
Minster returns to the floor tonight, making the trip north to Bluffton. Parkway is back in action next Friday, hosting New Knoxville.