Tuesday, December 11th, 2007
Leaking gasoline blocked from St. Marys sewer
Homeowner leaves due to fumes from service station
By Janie Southard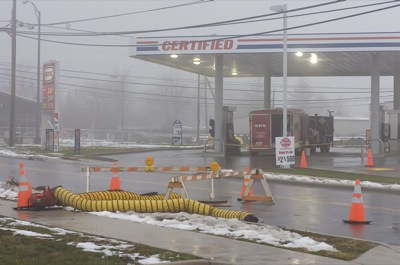 ST. MARYS - An underground gasoline leak during the weekend at the Certified Station east of town caused one resident to leave his home and several other homes to be tested for carbon monoxide fumes.
The evacuation was a "voluntary displacement," according to St. Marys Fire Chief Ken Kline. "There were gas odors in the home (107 S. Van St.) and we suggested they may want to leave. But it was their choice, we did not order it."
The investigation into the leak began Saturday evening after the homeowner called the fire department.
Other neighboring homes were tested by the department and slight levels of carbon monoxide were discovered, but no explosive levels were recorded, Kline said.
He then notified the Auglaize County Office of Homeland Security and Emergency Management, and Troy Anderson, director, joined the fire department at the scene as did other city officials.
The odor persisted but it was not until Sunday afternoon that a petroleum product was discovered in the city sanitary sewer.
"As we tracked the petroleum it led us just south of the Certified Station, although we didn't know the exact source then ... Now we know it's a line from a premium grade pump to an underground tank," Kline said, adding Certified Oil officials in Columbus hired a crew quickly to begin initial cleanup.
The petroleum company has BJAAM Consulting on the scene today with a giant vacuum that will suck product and vapors out of the ground, according to Anderson.
"(Certified) will have to get someone in later and bust up the concrete to replace the line but they're keeping the product from the city sewer system now, which is one of our biggest concerns," Anderson said this morning.
The city had one of its vacuum trucks working from Sunday afternoon to keep vapor levels contained. "Those guys stayed right up on it and did a really good job," Anderson commented.
By law, any costs resulting from a hazardous spill are recoverable, although it's far too soon to determine what those costs may be.
"There'll be overtime and straight time for the city police, fire department and all utility departments along with general service and all equipment used, plus some other costs," said Anderson, who agreed Certified will be paying "big money."
He added that the Ohio EPA has been monitoring the situation since Sunday afternoon and is providing reports to the city, which has no responsibility for the leakage.
Although there is no premium grade gasoline available, the station is open for business with diesel and regular grade at the pumps.
"Somewhere down the line station operations may be affected, but, actually the store part of the station has been open throughout this whole thing," Kline observed.