Wednesday, December 19th, 2007
Cavaliers need overtime to get past Roughriders
Coldwater, Marion Local finally able to start basketball
By Ryan Hines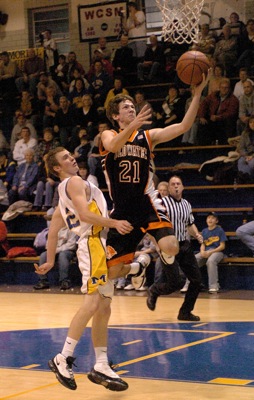 ST. MARYS - A pair of teams searching for their first win of the winter sports season squared off at McBroom Gymnasium on Tuesday night.
Coldwater, playing its first game of the season, forced overtime with a last-second shot in the fourth quarter and then made enough plays in the extra session for a 56-52 win over St. Marys.
It certainly wasn't a thing of beauty, but Coldwater head coach Mike Kanney is happy to be 1-0.
"It was our first game and we played like it," said Kanney, who hasn't had much time with his entire team after Coldwater's run to the Division IV state football championship. "At times we played well and at other times we made some poor decisions. I think that we'll learn from it. It was nice that we were able to come back and tie it and then win it in overtime. Still, there are a lot of things that we still have to work out. I sort of expected that, because that is how it has been in practice. We have to remember to put the ball in the hole and not tackle everybody, but we're coming around."
St. Marys head coach Paul Sadler knows his Roughriders let an opportunity for a win slip away, falling to 0-5.
"We were completely flat in the first half and we were poor in all facets of the game," said Sadler. "It looked like we were just going through the motions. We made a nice comeback in the second half and then put ourselves in a position to win the game, but we let it slip away. Bottom line is basketball is a four-quarter game and we haven't played a full four quarters yet."
St. Marys, which trailed at halftime by 12 points, rallied in the third quarter, but a poor showing at the free-throw line in the fourth quarter opened the door for Coldwater. The Roughriders made just 7-of-15 from the charity stripe in the fourth quarter, but still led 44-42 with 9.2 seconds left in regulation.
"Free throws win and lose games and if anyone of those go in, we would feel a lot better during this interview than I do right now," said Sadler.
Following a timeout by both teams with 3.5 seconds left on the clock, Coldwater's Ryan Geier passed the ball across the court on an inbounds pass and found 6-7 Eric Lefeld, who drilled a 10-foot jump shot as the buzzer sounded to force overtime.
"We had it set up a little differently and once I saw that how they were going to defend it, we kind of improvised and just kind of drew the play up in the dirt," said Kanney. "It turned out where we wanted it and Eric hit a big shot, that was huge."
"We kind of felt that they were going to try and get the ball to Lefeld, somehow, some way," said Sadler. "To their credit, they found a creative way to get him open on a backscreen and got him open. He made a contested jumper to force overtime."
The clutch shot by Lefeld, who scored 12 points in the game, paved the way for the Coldwater win as the Cavaliers rode the momentum and took an early advantage in overtime and never relinquished the lead.
Geier, who was 0-for-10 from the field through the first four quarters of play, scored the first three points of OT and finished the game with five points and a game-high 15 rebounds.
"He's a great player, but he was playing too fast and didn't let the game come to him," said Kanney about Geier, who was the Cavaliers' leading scorer last year at nearly 12 points per game. "He, along with everyone else, wasn't scrimmage tested and we'll just learn from this one."
Fellow Cavalier Zach Siefring also scored five points in overtime and finished the contest with a game-high 20 points in his first varsity game.
"The Siefring kid had to be a pretty nice surprise for them," said Sadler. "He established himself as their perimeter threat in this game and we let him loose too often."
Siefring, who his a trio of three-pointers and then went 5-of-6 from the charity stripe in OT, led a strong charge from the Coldwater bench as the Cavaliers got 31 points from their nonstarters.
"Zach did a good job of knocking down some shots, and we know he can do that, hopefully it will continue," said Kanney. "The nice thing is that we got a lot of contributions from our bench. We played 10 tonight and the bench played a major role in our win."
Cory Menker paced the Roughriders with 15 points while Jake Taylor came off the bench for St. Marys to score 10 points.
Coldwater returns to the court on Friday night on the road at Van Wert while St. Marys will play the second of three straight Midwest Athletic Conference opponents on Friday at Fort Recovery.