Saturday, December 29th, 2007
Local teens learning manga
Japanese comic books with unique look spur formation of group in St. Marys
By Janie Southard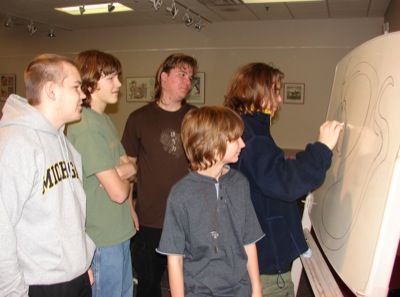 ST. MARYS - A group of local teens decided last summer to create their own comic book, but it's certainly not your grandfather's idea of a comic book - this one will be manga.
In Japanese, manga (MAHN-gah) translates to "whimsical pictorial." Marcus Baker, 16, of St. Marys calls it young adult cartoons, but actually there are numerous manga genres each with its own name. Seijkin manga is comics for adult males. Gekiga manga is comics on serious topics for mature audiences.
And there are others for romance, for teenage girls, for little kids, for men, even for very adult topics.
"In Japan, there's a lot more (sensuality) in manga. In America, there's a lot of censorship," said Josh Miller, 16.
"Manga is like a graphic (drawn) novel, but it's a Japanese graphic style," said Paula Drummond, librarian at St. Marys Community Public Library, where an Animanga Club was started about six months ago.
The club came about because of the interest of the local teens, Drummond explained.
"They asked to get in more books and show some films. The club formed last summer so they could get together to write their book," she said. "Along the way they found out others are interested in manga. Now we preview new manga and anime."
Anime is the film, while manga is the book form of this Japanese art form.
Manga books are typically 5-by-8-inches, an inch or more thick. And, here's the thing that throws most adults: The books are read back to front, and right to left on the page.
The characters in manga have very pointed chins, large round or square eyes and shards of hair hanging in their faces.
As to the risqué elements in some manga, Drummond said the local Animanga Club members are very responsible in reporting what can and can't be shown in the library.
"I ask for their recommendation as to whether we can really show this in the library ... And so far, it's worked out well," she said.
The plot is the big attraction to manga, according to the teens. Miller said he thinks there are "millions of plots with something for everyone, even adults."
Baker said he thinks it's the same basic plot with various "twists and turns."
The members of the Animanga Club say they ran out of summer before their book was finished. But they plan another go at it this coming summer.
A.J. Baker, 15, is the artist in the group who will likely illustrate the plot the writers come up with. Writers include Marcus Baker, Daniel Miller, 14, and Forrest Harrington, 13, all of St. Marys.