Friday, December 7th, 2007
Golden opportunity slips away for 'Riders
By Mark Ruschau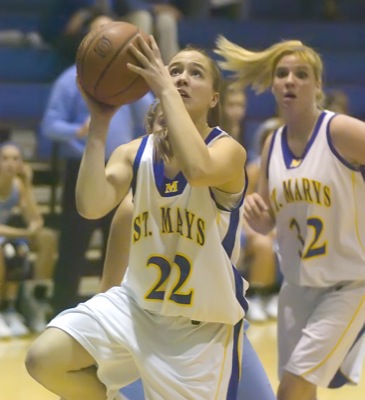 ST. MARYS - The St. Marys Roughriders had the undefeated Bath Wildkittens on the ropes, having rallied from a 10-point third-quarter deficit to cut the lead to two but could not make the big play, either offensively or defensively, down the stretch and fell 51-44 in Western Buckeye League play on Thursday night at McBroom Gymnasium.
St. Marys, 3-2 overall and 1-1 in league play, trailed Bath 36-26 late in the third period but got free throws from Lea Mackenbach and Kori Howell to cut the deficit to eight points at 36-28 after three periods.
After Bath rebuilt the lead to 38-28 on two Rachel Mauk free throws, St. Marys went on a 6-2 run, capped by a three-pointer from Mackenbach to cut the deficit to 40-34 with 5:07 left.
Bath's Stefanie Mauk made the score 43-34 after a trey, but St. Marys got a pair of field goals from Emily Shellabarger and Emily Steva and a three-point basket from Mackenbach to cut the Bath lead to 43-41 with 3:17 remaining.
Bath came down and answered as Alex Dackin stuck back an offensive rebound, the third of the possession, to increase the lead to 45-41 with 2:45 left. After a St. Marys turnover, Stefanie Mauk hit two more free throws with 1:40 left to make the score 47-41.
In the final 3:17, St. Marys was able to hit just one-of-two from the field and went one-for-two from the free-throw line while committing two turnovers. Over the final 3:17, Bath was 1-of-4 from the field, hit 7-of-10 from the line and did not turn the ball over while grabbing four offensive rebounds.
"We were able to win and that's about it," said Bath coach Greg Mauk. "Give credit to St. Marys, and I don't mean to disrespect them, but this week has just been awful in some of the things that we have done and we need to grow a lot. But St. Marys did a lot of that to us as well."
"The thing we did well at the end of the game was hit free throws," said coach Mauk. "We get teams into the situations were they have to foul us and we got the shooters that step to the line and hit free throws. We missed some tonight, but we hit the foul shots when we needed to and we were able to hold to the ball."
St. Marys coach Tim Niekamp knew that his team squandered numerous chances down the stretch and let a big win slip away.
"We gave up way too many offensive rebounds and that is part of defending a great three-point shooting team, you are out of position and they are able to pick a lane and go around you and I am not really sure how to coach against that," said Niekamp. "Offensively, we left a lot points on the table both in the first and second half, we missed shots that we normally make, we missed some free throws, and I don't know how many turnovers we had, but it was bunch."
Bath connected on 16-of-55 shots from the floor in the game, including 5-of-26 from three-point range and connected on 13-of-21 from the free-throw line. The Wildkittens grabbed 38 rebounds, 20 of which were offensive and committed 16 turnovers.
St. Marys hit on 15-of-39 shots from the floor and 8-of-16 from the free-throw line while committing 27 turnovers.
Stefanie Mauk led Bath with a game-high 18 points and added 12 rebounds.
Mackenbach led St. Marys with 14 points, Shellabarger added 11 points and grabbed 13 rebounds.
St. Marys takes to the road next Thursday as they travel across Grand Lake to take on the Celina Bulldogs in another WBL contest.