Friday, January 4th, 2008
Flyers snap Cardinals' winning streak at six
By Gary R. Rasberry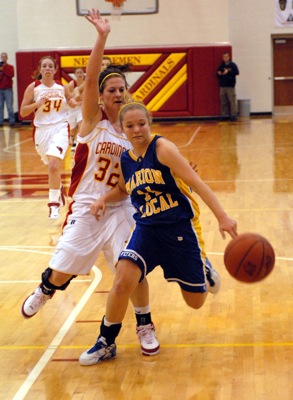 NEW BREMEN - Marion Local used a strong first half on offense and defense to get its fourth win out of the last five games with a 46-33 triumph over New Bremen at Cardinals Gymnasium.
New Bremen sees a six-game winning streak snapped in dropping to 9-3 overall and 3-1 in the Midwest Athletic Conference.
The Flyers cranked up the defensive pressure from the start of the game, taking a 12-2 lead after the first quarter, forcing the Cardinals in to nine first-quarter turnovers and 12 for the first half.
Marion looked to go inside to 6-3 Megan Barhorst and 6-4 Katrina Brand, taking advantage of the inside presence. The pair combined for 12 of the Flyers' 23 first-half points as the Flyers took a 23-8 halftime lead.
"We did a great job, played an excellent first half," said Marion Local coach Treva Fortkamp. "I thought we got a little lax in the second half, but we were able to hang and maintain the lead. We did a good job being patient and a good job in transition. The only thing I probably was disappointed in was the offensive rebounds they were getting (17)."
"We didn't show up," said Cardinals coach Dave McFeely. "I don't know if it's we're intimidated or overcoached. It may be that, I'll take the rap on that."
The Cardinals rebounded in the second half to make a game of it, getting the deficit to single digits late in the fourth quarter before the Flyers held on.
"We ran the same offense in the second half. We were more aggressive with it," said McFeely. Take your hat off to Marion Local. After a slow start, they've gotten on top of their game."
Brittany Thobe led the Flyers with 15 points with Barhorst scoring 10. In all, seven Flyers got into the scoring column, something Fortkamp likes to see.
"This is a team where anyone can step up," said Fortkamp. "I think we have great leaders and I hope that continues. We're just working on getting better."
Stacy Timmerman paced the Cardinals with 16 points and Taylor Jones scored 10.
Marion Local is back in action on Saturday, traveling to Elida. The varsity game will begin at 2 p.m. with the JV game to follow at 4 p.m.
New Bremen is off until next Thursday, traveling to St. John's.