Saturday, January 5th, 2008
St. Henry pulls away after timeout
Redskins place four in double figures
By Gary R. Rasberry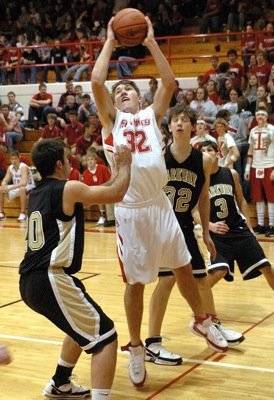 ST. HENRY - After seeing a sizable lead cut to three points midway through the second quarter, St. Henry stormed back to life after a timeout and pulled away to beat Parkway, 75-51, in Midwest Athletic Conference action from Redskin Gymnasium on Friday.
The win puts the Redskins at 9-1 on the season and 3-0 in the MAC while the Panthers fall to 3-7 overall and 0-3 in league play.
The first 11 minutes of the game were a tight battle. Parkway went to its big guns - center Jordan Thompson and guard Josh Fisher - for points, while St. Henry spread the wealth with a balanced attack.
The Redskins looked to be in control after taking a 19-12 lead after one quarter, then making it a 10-point game to start the second quarter on a Neil Schwieterman three-pointer. Parkway came back to go on a 9-2 run, capped by a three-pointer from Fisher with 4:58 left in the half.
St. Henry coach Joe Niekamp immediately called a timeout to refocus his team and, more importantly, break the Panthers' momentum. The plan worked as Spencer Niekamp scored a bucket on the ensuing possession to make it a five-point game. After a Parkway turnover, Andy Mikesell nailed a trey to push it to 29-21.
Parkway turned the ball over again, with Niekamp this time dialing long-distance for a three-pointer to make it 32-21 in just 63 seconds. This time, Parkway coach Doug Hughes called a timeout.
"We played very well in stretches tonight," said coach Niekamp. "To Parkway's credit, we got up on them a little bit early. They're an athletic and experienced team. They did some nice things to get right back into it. I thought our kids did a nice job of maintaining their poise. We got on that little roll that gave us that little bit of a cushion that we pretty much maintained."
"They went on a run. ... That's when we were forced to call a timeout," said Hughes. "It went from 24-21 to a halftime score of 41-27. They made some adjustments during the timeout they used. We didn't adjust very well."
The Redskins shot an outstanding 60.9 percent (14-of-23) from the field in the first half, including a 5-of-10 effort from beyond the three-point line, in taking a 41-27 lead at the break.
St. Henry poured it on in the second half, pushing its lead over 20 points into the third quarter and led 59-39 at the end of three quarters.
The Redskins hit a solid 29-of-59 from the field (54.7 percent) in the contest and got points from 10 of the 11 players they played.
"We were able to get some pretty decent looks. The kids were shooting the ball pretty well," said coach Niekamp. "Sometimes we fight being a little bit impatient at times. Sometimes we want to make it all happen at the beginning of every possession. Kids are doing some good stuff."
"They create a lot of problems for a lot of teams because how good they are offensively," said Hughes of St. Henry. "Especially when they shoot the ball well as they did tonight. They've got some guys who can really play offensively."
Ryan Wehrkamp led the way with 17 points thanks to 7-of-10 shooting from the floor. Brent Prenger added 11 points with Darren Siefring and Niekamp scoring 10 each.
Thompson finished strong inside for Parkway, leading all players with 22 points and pulling down 13 rebounds. Fisher added 14 points.
St. Henry stays at Redskin Gymnasium tonight to host Tri-Village while Parkway returns tonight to Panther Gymnasium to face Paulding in the battle of Panthers.