Monday, January 7th, 2008
Indians drop second straight in double OT
By Gary R. Rasberry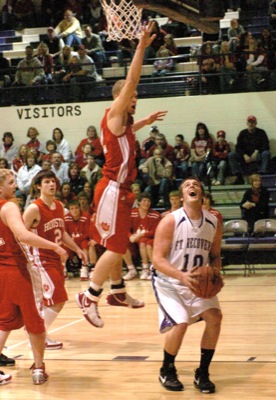 FORT RECOVERY - A night after suffering a tough loss to undefeated New Knoxville, Fort Recovery looked to rebound against another strong team in Houston.
The Indians went up big early, only to have the Wildcats come back and make a game of it.
It took two extra sessions before a late score by Dan Estes allowed Houston to escape Fort Site Fieldhouse with a 65-63 double-overtime win on Hall of Fame Night at Fort Recovery.
Both teams left the floor with matching 8-3 records, with the Indians suffering their second straight loss.
It appeared that the Indians would run away with the game early on, being up as much as 23-13 midway through the second quarter. The Wildcats, however, went on an 11-2 run to cut it to 25-24 with 36 seconds left before halftime. A Clint Tobe three-pointer near the buzzer gave Fort Recovery a four-point lead at the half.
"The last two minutes (of the half), we started playing good defense," said Houston coach John Willoughby. "The past two games, we haven't been playing our good man-to-man defense, but the last two minutes, we started playing pretty good man-to-man defense. I think that saved us at the end of the game when they were holding the ball and we stopped them."
Houston continued its run in the second half. Dustin Schwable scored five straight points to start the third quarter to give Houston its first lead of the game at 29-28 with 6:43 to go, capping off a 16-5 run. After several minutes of trading the lead, Estes and Schwable pushed the Wildcat lead to five points with three minutes left at 36-31.
The Indians, already without the injured Toby Metzger, took another loss late in the third when Tobe, the second leading scorer for the Tribe, picked up his fourth foul and was forced to sit for an extended time.
Bobby Rammel, however, stepped up and teamed with Greg Kahlig to hit plenty of big shots along the way to keep the Indians within striking distance and getting the lead back.
"I thought Bobby played his best game of the year tonight," said Fort Recovery coach Brian Patch. "One, from a ball-handling standpoint, and for not just standing on the three-point line, but actually moving, creating shots and wanting the ball, rebounding the ball and defending. I was really pleased with his overall effort tonight. That's what we need guys to do."
Houston tried to stay ahead throughout the fourth quarter, but Fort Recovery stayed close with Tobe coming back in and playing solid basketball without picking up the fifth foul. The Indians trailed 52-50 with the clock under a minute to go when Rammel was fouled going up for a shot. Rammel sank both free throws to tie the game with 55.7 seconds left. Both teams had shots to win the game, but missed, sending the contest into overtime.
The first overtime saw both teams score in the first half of the four-minute period, but go scoreless the rest of the way. The Indians took a 56-54 lead with 2:15 left on a Kahlig bucket, but Schwable tied things up with 2:08 in overtime with a pair of free throws. Kahlig's 10 footer in the final seconds just missed, sending the game to a second overtime.
Travis Mullen put Houston up first in the second session on a back-door pass, only to have Tyler Jutte counter with a bucket of his own for the Indians. Schwable got three quick points to make it 61-58 with 2:36 to go, but Fort Recovery answered with a Tobe bucket, followed by a lay-in by Frank Thien to make it 62-61 with 1:38 left.
Mullen put the Wildcats back into the lead with 72 seconds to go with another layup. After a pair of Indians timeouts, Tobe drove and was fouled. Tobe tied the game with the first free throw, but missed the second with 57.9 seconds left.
Houston worked the ball around, calling a pair of timeouts along the way, before waiting on a play for a driving Estes, who put the ball in on a short jumper with 2.4 seconds left.
"That's our bread and butter play at the end of quarters and games: Set that high screen for Danny. Danny can do what he can do there," said Willoughby. "He did a nice job there."
Fort Recovery threw a pass to midcourt and quickly called a timeout, getting a last-chance shot with two seconds left. Kahlig's three-point try was just short, ending the game.
"I thought tonight was a lot better for us than last night (the loss at New Knoxville)," said Patch. "We had eight turnovers, which is a lot better than last night. Our rebounding was a lot better. Our intensity was better. Overall, I thought we played a lot better. Obviously, we couldn't make enough plays at the end to win it."
Kahlig played all 40 minutes of the contest, finishing with 25 points. Rammel also logged nearly every minute of playing time possible, scoring 19 with Tobe chipping in with 12.
Schwable led the Wildcats with 23 points and 12 rebounds while Estes added 18 points.
Fort Recovery have another tough challenge this Friday, hosting 10-1 St. Henry at Fort Site Fieldhouse.