Friday, January 11th, 2008
Celina unbeaten in trimatch at the Fieldhouse
By Gary R. Rasberry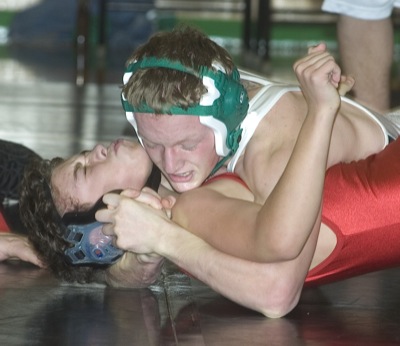 The Celina wrestling team had a couple of things to prepare for during a trimatch at the Fieldhouse.
Most important of the chores, was facing Wapakoneta in a battle of Western Buckeye League unbeatens in the first match of the night.
The second was concluding the night with the MatDogs facing Coldwater in a battle for Mercer County wrestling bragging rights.
In the end, Celina came out of the night unscathed, beating Wapakoneta 34-25 then ending the evening by holding off Coldwater 31-30 in a boisterous contest.
Coldwater earned a split night, beating Wapakoneta for the second time in two weeks 49-18.
For Celina, the match against the Redskins was huge with both teams unbeaten in WBL action. The Redskins benefited from two overtime wins while Celina got four pins, with Cody Doner's pin of Drew Wickline with less than a second to go in the first period, giving the MatDogs more than enough to win. Steve Stoker, Alex Dues and Codey Welker also posted pinfall wins with Curtis Doner, Tyler Temple and Tylor Thees also getting wins over the Redskins.
"The whole team wrestled pretty good," said Celina coach Tim Doner. "We're still missing a few spots, we had a kid out tonight with a skin condition."
Coldwater, which beat Wapak at The Palace on Dec. 27 by a 55-22 score, dominated the Redskins in the second meeting. The Cavaliers scored five pinfalls in the match. Alex Uhlenhake, Greg Roessner, Matt Grandstaff, Nick Gabel and Trevor Kunk recorded pinfall wins.
"We were pleased," said Coldwater coach Chuck Alig. "Wapak wrestled Celina first and Tim had them ready to go."
In the final match of the night, both teams stayed very close to each other for the most part. The teams alternated lighterweight matches with Coldwater taking four of the seven heavier weight matches.
Things really got down to the nitty gritty in the 130-pound bout between Celina's Jacob Meinerding and Coldwater's Brian Hemmelgarn. Meinerding led 8-7 in the final minute of the match, but was penalized twice for hitting the face of Hemmelgarn, resulting in a pair of one-point penalties putting Hemmelgarn up 9-8.
In the closing seconds, Meinerding shot in for a takedown, but could not get over in time as Hemmelgarn won. After the bout, Celina was deducted a team point for unsportsmanlike conduct.
The MatDogs rebounded. Cody Doner beat Trevor Kunk 10-0 to pick up four points. With the second mat open in the two-mat format, the 140-pound bout between Ben Sutter and Trent Muhlenkamp was bumped over, allowing the 145 match to start earlier. Alex Dues put Celina up 31-26 with a pin of Jordan Grieshop.
Timmerman needed to pin Sutter to give Coldwater a one-point win or a technical fall to earn five points and tie the match, which would have given Coldwater the win via a tiebreak since Celina was deducted a point earlier for the unsportsmanlike conduct.
Timmerman put Sutter down early as Coldwater wrestlers and fans willed him to get the pin. In the end, though, Sutter held out as Timmerman managed just a 13-0 major decision to earn four points giving Celina the slim margin of victory.
"It was awesome," said Alig. "It would have been nice to be on the winning side, but that doesn't always happen. What you saw was two teams that just laid it all on the line. It was pretty nice to see.
"We told our kids coming in if they want to beat Celina, it comes down to if you lose a match, you can't get pinned. If you want to win, you have to pin."
"A lot of big matches. Lot of close matches," said coach Doner. "Two teams from the county coming down to a match like that... couldn't ask for much more.
"Competition makes both of us better. Hopefully it will help both of us in the postseason."
Tyler Temple scored the only other pinfall win for Celina in the final matches. Alex Uhlenhake and Tyler Kunk scored pins for Coldwater against Celina.
Coldwater is back in action on Saturday, hosting five teams for a dual tournament starting at 9 a.m. at The Palace. Celina is back in action on Tuesday, traveling to Bath for a WBL match.