Saturday, January 12th, 2008
Rangers pick up road win vs. Cavs
By Mark Ruschau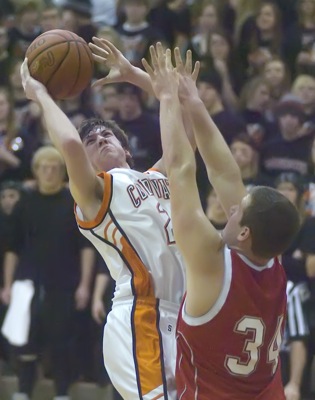 COLDWATER - New Knoxville, the undefeated and number-two ranked team in Division IV, went on the road to The Palace at Coldwater High School Friday night and came home with a huge 62-52, Midwest Athletic Conference win over the Coldwater Cavaliers.
With the win, New Knoxville improves to 11-0 overall and remains tied for first place in the conference with the Marion Local Flyers, each with a 4-0 record. Coldwater, losers of three straight, fall to 3-5 overall and 0-2 in the MAC.
This game belonged to Coldwater early as it was able to hit on 66 percent of its shots in the first half en route to a 32-28 lead at the half. Seven different Cavaliers dented the scoring column, led by eight points from Joe Thomas off the bench.
Coldwater build its lead to as many five points in the third quarter, 39-34, on a lay-in by Ryan Geier with 4:10 left.
"Coldwater is a nice quick team and they took the game right at us. They were not timid and they played a good team game," said New Knoxville coach Dan Hegemier. "I was disappointed with our backside defense which we will correct. Coldwater is a fine team."
"I am proud of the kids," said Coldwater coach Mike Kanney. "I thought we played hard and they did everything that we asked of them. I thought the kids did a good job of taking care of the basketball. Every time I have seen New Knoxville, teams have been down 12-0 early and fortunately we wear able to take care of the basketball, shoot the ball and get second shots and I thought we did a good job in the first half."
New Knoxville then went on an 8-0 run late in the period keyed by a four-point play from Austin Luck to take a 42-39 with 2:12 left.
Coldwater tied the game at 42 with 51 seconds left in the third period on a three by Zach Siefring.
New Knoxville then received a major break late in the period as Austin Arnett was fouled while grabbing a rebound with less then a second left in the period. Arnett hit one of the two free throws to give his team its first lead since early in the second period.
New Knoxville carried the momentum from the Arnett free throw into the final period and built its lead to 48-42 on a Tony Meyer three-point field goal and a short jumper by Caleb Allen in the first 2:27 of the period.
Coldwater quickly cut the deficit back to two, 48-46, with 4:54 left on a three-point play by Eric Lefeld and a free throw by Thomas.
Luck rebuilt the Rangers advantage to four as he hit two free throws with 4:52 left.
Coldwater cut the lead to two one last time with 3:49 left on a lay-in by Lefeld. Luck then came up huge one last time as he hit a three with 3:33 left to rebuild the lead to five, 53-48.
The New Knoxville defense stepped up in the final three minutes as they held Coldwater to just two points, forcing two turnovers and three missed field goals.
"We made some adjustments defensively in the second half but they still scored," said Hegemier. "Austin Luck came in and hit some big shots for us, Caleb Allen also hit a big shot for us. This was the type of game that every team has to have, where you get a conference win in a physical game where you are down and you suck it up and get a win. I am real proud of the guys."
"It was a physical game and both teams played very hard," said Kanney. "They went to a zone defense in the second half and we stared at it and did not attack it liked we should of. Luck hit a couple of big shots, Meyer hit a couple of shots and I thought we played good defense, with a hand in their face."
Arnett led a quartet of Rangers in double figures with 15 points. Luck added 14 with Allen and Brad Piehl chipping in 10 each.
Geier led Coldwater with 15 points. Lefeld added 11 points and 10 rebounds and Thomas chipped in 11 points.
Coldwater is back in action tonight hosting Perry. New Knoxville returns to action this evening as well playing host to Botkins.