Monday, January 14th, 2008
Cavaliers sweep Coldwater Duals
By Gary R. Rasberry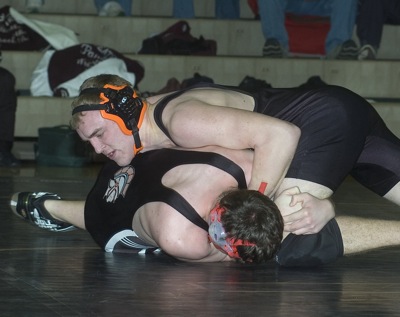 COLDWATER - Facing off against some solid teams, the Coldwater wrestling team had a big challenge in trying to go unbeaten during Saturday's Coldwater Duals Tournament in The Palace.
The Cavaliers came through, completing a clean sweep on the day, concluding with a solid 39-19 win over Western Buckeye League power Elida in the fifth round of the tournament.
"Kids wrestled great today," said Coldwater coach Chuck Alig. "They're improving. That's what we want to see. Hopefully we can continue that way."
Coldwater opened the day with its easiest win, a 65-15 drubbing of Cross County Conference foe Arcanum. In the second round, Clinton-Massie, one of the top teams in the Miami Valley, looked to get some sort of payback after Coldwater beat them in football 63-14 during the playoffs. Coldwater remained strong, beating the Falcons 48-22.
Next up was Northwest Conference contender Paulding. The result was the same, Coldwater used its experience to pull away for a 45-21 win. Round four saw West Liberty-Salem look to try and derail the Cavaliers, but Coldwater pulled away late to take a 53-24 decision.
Going into the final round, Coldwater was the only unbeaten. Elida's only loss was a 37-31 decision against Clinton-Massie. The Cavaliers needed a win - with Massie facing winless Arcanum - to snag the overall title.
Coldwater began to pull away when Tyler Kunk went to the mat against Spencer Ladd at 171 pounds. Kunk was taken to the limit by Ladd before coming away with a 14-12 decision to put Coldwater up 13-6. Nick Gabel followed with a big pin at 189 pounds on Carl Miller.
At 215 pounds, Coldwater's Nick Uhlenhake, unbeaten at 24-0 coming into the final bout, faced WBL contender Cody Wittkamp. Uhlenhake dominated to improve to 25-0 with a 18-2 technical fall on Wittkamp.
"Two-fifteen was a very strong weight class," said Alig. "Nick has proven that he's for real. He's 25-0 right now and is doing the job."
The winning continued at 112, where Matt Grandstaff beat Jason Hunlock, the WBL runner-up at 103 pounds last season, with a 7-4 decision. Defending WBL 112 champ Shawn Brunk completed a 5-0 day in beating Jared Kohn at 119 pounds by major decision to cut it to 27-16, followed by teammate Shane Troyer denying Brock Timmerman a perfect day at 125 pounds. Coldwater concluded the day with Trevor Kunk winning at 135 points.
Both Kunk brothers, along with Grandstaff, Uhlenhake and Muhlenkamp finished the day at 5-0 for the Cavaliers.
With the postseason just over a month away, Alig is seeing the good signs for a team that is getting tournament ready.
"We've got everyone where we want them weight-wise," said Alig. "Now it's a matter of improving every week.
"This is a great competition. You have Clinton-Massie, West Liberty-Salem, Elida. They all bring good quality teams. That's what we need."
Coldwater is back in action on Tuesday, making the trip to Elida to take part in a trimatch along with Defiance.