Wednesday, January 16th, 2008
Bulldogs persevere for victory
By Ryan Hines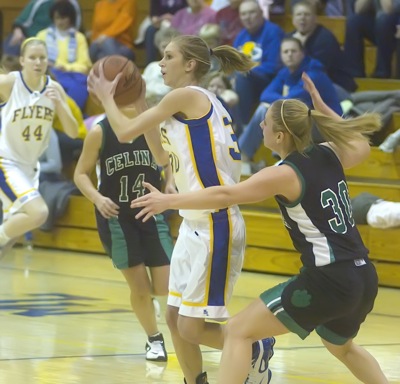 MARIA STEIN - Celina girls basketball head coach Brian Stetler summed up Tuesday's game against Marion Local in one word: Perseverance.
It took perseverance for Celina to win its 10th straight game as the Bulldogs overcame a horrible start and turnover problems all night long before escaping The Hangar with a 39-34 victory over the Flyers.
Celina (11-2) has played much better than it did against Marion Local (5-7) during its current hot streak, but Stetler was happy to see his Bulldogs grind out the win.
"We didn't play well tonight, but to our girls' credit, they persevered and got through it with a win against a good team in a tough place to play," said Stetler. "It's hard to simulate Marion's defense in practice because of their size and the way that they play the passing lanes. They cause all sorts of problems with their zone and it caused us problems tonight."
For Marion Local head coach Treva Fortkamp, it was the same old song and dance as she watched another winnable game slip away.
"I just got done telling the girls that we are this close," said Fortkamp while pinching her fingers together with just an inch in between. "We have seven losses and we've had leads in every game, including tonight, except for two games and we just aren't making the necessary plays to win those games. Somebody needs to step up for this team and lead the way. It's there, it's just a matter of putting it all together and we need someone to step up and lead us.
"When we're falling down the side of the mountain, I need someone to be able to take control and pull the team back up to the top," added Fortkamp. "We have the ability and if we can ever put 32 minutes together, this team could make a nice tournament run, but we have to have someone lead us on the floor."
The first half was a tale of two very different quarters. The Flyers looked in control early on, jumping out to a 10-2 lead after the first quarter, but the momentum shifted to Celina in the second quarter as the Bulldogs outscored Marion Local 11-2 and took a 13-12 advantage into halftime.
Stetler felt fortunate that his Bulldogs held a one-point lead at halftime, considering the Green and White turned the ball over 15 times in the first half.
"As bad as we played in the first half, we were still up by one point and at that point, it seemed amazing," said Stetler, who watched his team turn the ball over 26 times in the contest.
Celina never trailed in the second half and led by as many as six points, but Marion Local stayed within striking distance all the way to the final buzzer.
Kristin Bergman pulled Marion Local to within one point at 30-29 early in the fourth quarter with all five of her points, but Celina answered the Flyers' short spurt. Back-to-back baskets by Liz Homan and Chandra Francis pushed the Celina lead back to five points at 34-29 with five minutes left to play in the game.
Marion Local then scored five of the next seven points to pull to within two points at 36-34 with 47 seconds left to play, forcing a Celina timeout.
Cayla Hellwarth hit one-of-two from the free-throw line to push the Celina lead to three points and then Francis made a big defensive play. The 5-7 sophomore was at the top of Celina's 2-3 zone defense and she jumped into the passing lane and made a crucial steal for the Bulldogs on the Flyers' possession with under 30 seconds left on the clock.
"Our defense was pretty good and the girls did a good job of adjusting to some of the changes that we made on the defensive end," said Stetler. "We don't play a lot of 2-3 zone, but I thought that the girls did a good job of it tonight. We got some deflections, got our hands on the ball and just made a few hustle plays that I thought were huge."
Francis was then fouled on the steal and then iced the game for the Bulldogs with a pair of free throws with just 21 seconds left in the game.
Celina had the only two players of the game to reach double figures. Homan had 12 points and a game-high eight rebounds while Kelsey Waterman added 10 points.
Megan Barhorst led Marion Local with nine points.
Celina will return to Western Buckeye League play on Thursday night at the Fieldhouse against Kenton while Marion Local will play a Midwest Athletic Conference contest at Fort Recovery.