Friday, January 18th, 2008
St. Henry rallies from double-digit deficit for double OT victory
By Mark Ruschau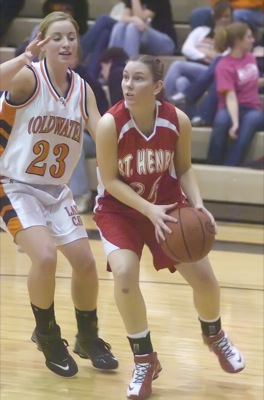 COLDWATER - The St. Henry Redskins rallied from a nine-point halftime deficit to defeat the Coldwater Cavaliers, 48-44, in double overtime Thursday night in Midwest Athletic Conference action at The Palace.
St. Henry, winner of two in a row, improves to 3-11 overall and 2-4 in the conference while Coldwater falls to 2-12 on the year and 1-5 in the MAC.
"The girls made enough big plays at the end to get us the win," said St. Henry coach Charlie Maier. "We made some big plays down the stretch, but we also got excited and turned the ball over. I am really proud of the way girls stepped up when they had to.
"In the first half, I did not recognize that team that was there on the floor," continued Maier. "We challenged them at the halftime and they came out and kept coming back. We had some adversity out there. There were times when we could of tanked it, but we did not do it and that showed a lot of character. I told the girls that they showed a lot of character tonight by stepping in there and winning that basketball game and I told them that I was really proud of them."
While Maier was proud of the way his girls made their comeback, Coldwater coach Nick Fisher was searching for answers yet again as to why his squad was unable to hold a big early advantage.
In the first half, Coldwater held St. Henry to just four field goals in 27 shots and just 10 points. On the other end, the Cavaliers allowed the Redskins to hang around as they could hit on just 6-of-27 shots from the field and just 6-of-13 from the free-throw line.
"We were up by 12 points in the first half and we let them cut it to nine at the half when we could of knocked them out," said Fisher. "We have been in this situation off and on all year, we just need people to step and grab control."
The Redskins outscored Coldwater 13-8 in the third period to crawl to within four, 27-23 after three periods. The St. Henry defense stepped up in the period holding Coldwater to 3-of-14 shooting in the period.
St. Henry crawled all the way back and tied the game at 30 with five minutes to go in regulation on a basket by Chelsea Mestemaker. Coldwater retook the lead with 2:48 left on a baseline jumper by Marla Hess. St. Henry retied the game with 2:08 left on a jumper by Mestemaker.
St. Henry took the lead, 31-30 on a free toss by Becky Dirksen with 51 seconds left, but Coldwater retook a 34-33 advantage with 42 seconds left on a short jumper by Kelley Lefeld. St. Henry came right back to take the lead with 24 seconds left on a deuce from Kenzie Bruggeman.
Coldwater worked the clock down to three seconds when Lefeld was fouled in the lane and Lefeld hit one of the free throws to tie the game at the end of regulation.
After St. Henry took the lead in the first overtime, Coldwater rattled off five straight on a basket by Kara Uhlenhake and a three pointer by Hess to take a 38-35 advantage with 2:00 minutes left.
St. Henry retook the lead, however, as it scored four points over a span of 33 seconds for a 39-38 advantage with 1:11 left on a pair of free throws by Carla Pottkotter.
Coldwater regained the lead, 40-39, with 61 seconds left on a pair of free throws from Lefeld before St. Henry went in front again with 34 seconds left on jumper from Heather Rammel.
Coldwater tied the game again with 21 seconds left on a Lefeld free throw.
Both teams had chances to end the game, but St. Henry turned the ball over twice and Coldwater missed a shot.
St. Henry took the lead in second overtime on its first trip on a free toss from Brooke Mattingly before Coldwater took its last lead of the night, 44-42, with 1:27 left as it got a free throw and a basket from Uhlenhake over a span of 57 seconds.
That was the end of the offense for the Cavaliers as they turned the ball over four times and missed a shot on their last five trips.
While the Coldwater offense went south, the St. Henry offense had its best spurt of the night getting baskets from Rammel and Mestemaker to take the lead for good.
Rammel and Mattingly led the way for St. Henry with 11 points each while Rammel grabbed 15 rebounds and Mattingly hauled in 13.
Hess led Coldwater with a game-high 14 points.