Monday, January 21st, 2008
Cavs carry hot shooting into Fieldhouse for win
By Gary R. Rasberry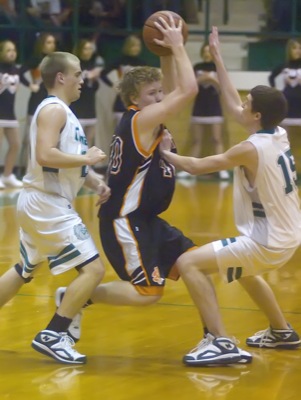 The hot shooting touch continues for the Coldwater Cavaliers.
After shooting 52 percent against St. Henry on Friday night, the Cavaliers neared the 60-percent mark in posting a 65-51 win over Celina at the Fieldhouse on Saturday in the 72nd meeting of the teams.
The win, the third in a row for the Cavs, pushes Coldwater to 7-4 on the season while Celina falls to 4-10.
It didn't hurt that Coldwater started the game making its first seven shots, including a pair of three-pointers from Kurt Riethman, as the Cavaliers jumped out to a 9-2 lead. The Bulldogs, however, rebounded and trailed by just a 19-16 margin after one quarter. While Coldwater was 8-of-12 from the field, Celina was 7-of-12.
"The kids did a good job looking for the open man," said Coldwater coach Mike Kanney. "When you've got open looks, there's a good chance to knock them down. We made them, that was the good thing. We got off to a great start."
That changed in the second quarter as defensive pressure by Coldwater began to play havoc. Celina committed six turnovers in the quarter as the Cavaliers outscored the Bulldogs 19-6 to make it 38-24 at the break.
Coldwater was a blistering 16-of-26 from the field - 61.5 percent - in the first half, including 5-of-7 from behind the three-point line. The Cavaliers needed every shot to fall as Celina was also shooting the ball well, making 10-of-19 (52.6 percent).
Needless to say, Celina coach Chris Bihn wasn't happy with the Cavaliers getting open shots.
"They were getting open looks uncontested. They have a group of kids who can shoot the ball," said Bihn. "Leave them open out there, you can play a game of P-I-G. Anybody can shoot. It was like they were playing P-I-G."
Celina continued to stay hot and got the deficit to under double digits midway through the third quarter at 42-33 with 3:56 to go. Coldwater responded as Zach Siefring nailed back-to-back three-pointers to push the Cavs lead to 15 points. The rest of the game saw the teams trade basket for basket.
"They played very well, very hard," said Kanney of Celina. They created some problems for us. It was a good Saturday night ballgame for both teams."
Coldwater finished its night 24-of-41 from the field for a healthy 58.5 percent shooting clip. Celina also had a solid shooting night at 19-of-39 (48.7). However, 21 turnovers, 11 in the second half, did not help the Bulldogs' cause.
"I'm going to have to go back and check the film," said Bihn when told of the number of turnovers. "The stuff they threw at us, we see once or twice a week in practice. I've got no idea why we didn't execute better. We didn't bring guys to the middle. ... We didn't execute very well.
"I'll tell you what, Coldwater has a nice team. They did a lot of nice things. They got open looks and we can't let that happen."
Cavalier center Eric Lefeld, who made his first six baskets of the game, led the Cavaliers with 17 points. Riethman was a perfect 4-of-4 from the behind three-point line en route to a 14-point night. Siefring added 11 with Ryan Geier scoring 10.
Derek Gagle had a strong night for Celina, leading all players with 25 points on 9-of-18 shooting. Bulldog big men Brent Riemesch and Jake Green added seven points each.
Coldwater returns to The Palace on Friday to face Midwest Athletic Conference co-leader Marion Local. Celina heads to another Fieldhouse - the Elida Fieldhouse - to face Elida in a battle of Bulldogs on Friday.