Friday, January 25th, 2008
County moves to expand wastewater plant
Expansion needed to accommodate new jail to be built on state Route 29
By William Kincaid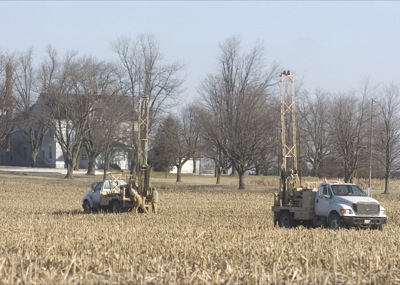 Mercer County commissioners took the first step toward expanding the county's wastewater treatment plant on Thursday morning as they agreed to pay Fanning/Howey Associates, Celina, $23,500 for preliminary engineering.
The county wastewater plant, located on state Route 29 west of Celina near the Mercer County Home, will need to be expanded to accommodate the new Mercer County Jail to be built next door, according to Commissioner Jerry Laffin. Laffin did not know how much of an expansion would be needed for the new jail.
The Mercer County Jail will be built on a portion of the 50-acre county home property that currently is being farmed.
The county treatment plant, according to Laffin, currently processes wastewater for the county home and some of the other facilities on the property, as well as the Silver Lakes housing development.
According to the agreement with Fanning/Howey, an engineer will complete the design flow calculations, show the location and layout of the proposed expansion and sanitary sewer extension to the new jail and submit the drawings to commissioners for review during the schematic design phase.
The construction documents will be completed within the next 120 days and sent to the Ohio EPA for approval.
The firm also will assist in advertising for construction bids and evaluating the bids for the award, as well as act as the construction administration.
The jail will be funded by a 0.5 percent sales tax, with collection to begin in April. The jail setback will match neighboring Foundations Behavioral Health Services, and preliminary plans call for the county home driveway to be widened to accommodate the sheriff's department, meaning there will be no additional outlet onto state Route 29.