Tuesday, January 29th, 2008
Cavs grab early lead on Tigers
By Gary R. Rasberry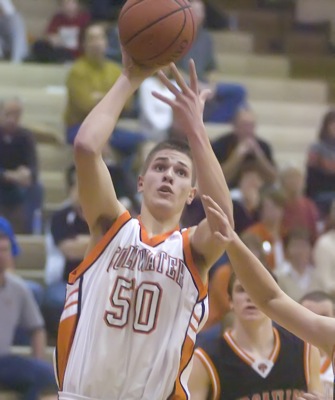 COLDWATER - One of the keys in having a successful basketball game is to keep turnovers to a minimum.
Coldwater certainly did that on Monday, committing just three turnovers in the contest and forcing 17 Versailles turnovers as the Cavaliers improved to 9-5 with a 58-43 win at The Palace in a rescheduled game from early in the season.
The Cavaliers (3-2 Midwest Athletic Conference) took care of the ball well, not committing a turnover in the second and third quarters and getting their third turnover midway though the fourth quarter when the game was well in hand. That, and solid inside-outside shooting, made Cavs coach Mike Kanney happy.
"We keep working to improve on that," said Kanney of the turnovers. "I thought our guys did a good job tonight taking care of the basketball, also finding the open man. We were pretty patient with their zone."
The Cavaliers took control of the game early. After Jon Richard nailed a three with 7:37 left in the opening quarter to give the Tigers a 3-2 lead, Coldwater went on a 9-0 run to take an 11-3 lead as Versailles either turned the ball over or missed a shot on five straight possessions before Ian Nisonger hit a bucket with 4:27 left in the quarter to make it 11-5. Coldwater mixed up its scoring, with 6-7 Eric Lefeld getting big shots in the paint with Kurt Riethman and Zach Siefring nailing some three-pointers.
"If we can find some way to make a little better decisions," said Versailles coach Scott McEldowney about the turnovers. "It's not always just flat out pressure. Sometimes I thought we had two-on-ones that we couldn't make the pass to take advantage."
From then on, the Tigers could get no closer than six points, despite shooting 51.5 percent (17-of-33) from the field. The Cavaliers continued its inside-outside scoring attack, going up by 20 at one point in the fourth quarter before the Tigers got it back to within 49-39 with a 10-0 run with 3:23 left in the quarter.
Lefeld was dominant in the paint, leading all players with 20 points on 10-of-11 shooting. The one miss came on a shot from near the three-point line, which resulted in Kanney calling him to the bench.
"Eric did a nice job in the post, after he took that three. I think his toe was on the line," said Kanney with a laugh. "They hadn't stopped him in the post. ... He made adjustments, came back in and did a great job.
"Guys did a good job finding him. That opened some perimeter things too. We had some guys who hit some big threes."
"We got him out a bit. He was just able to shoot it over top of us," said McEldowney of Lefeld. "Maybe we could have bodied him a little more and try and push him out. He does a nice job."
Siefring added 15 points with Riethman adding nine. The pair were a combined 6-of-13 from behind the three-point line.
Richard paced the Tigers with 15 points while Bryant Ahrens added 12 points.
"I thought our kids, overall, played pretty good defense," said McEldowney. "Give (Coldwater) credit. They hit some outside shots. When they do that, they're a pretty dang good team."
Both teams are back in MAC action on Friday. The Cavaliers head up to Delphos to face St. John's in The Vatican. Versailles also heads north, facing a surging Parkway squad.